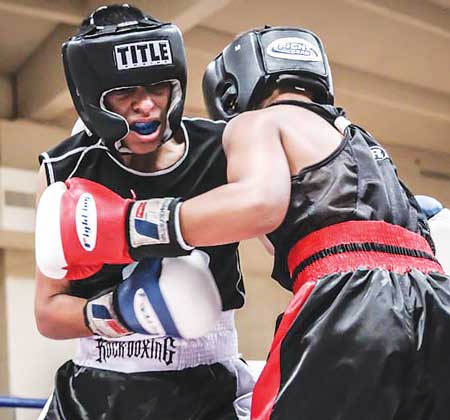 Modesto Red Shield takes a punch at boxing
Boxing tournament draws in 300 community members.
More than 300 fans crowded the boxing ring at the Modesto (Calif.) Red Shield, led by Corps Officers Lts. Dustin and Caroline Rowe, on Aug. 3 for its Live Amateur Boxing Tournament.
In 20 matches, 40 fighters competed from boxing clubs all over California and Nevada. To keep the matches equal, Red Shield head boxing coach Juan Barrera paired the fighters up according to their skill level.
Competitors showcased their skills, and hoped to add wins to their record in the quest to gain pro status.
"The boxing program really instills discipline in the hearts of the [youth] of south Modesto," Caroline Rowe said. "It strengthens their confidence, and gives them self-worth."
According to Dustin Rowe, the boxing program keeps the youth away from negative influences in the community, and provides the guidance and acceptance that many are seeking.
"Boxing doesn't sound like something that would line up with the mission of The Salvation Army, but when you look at the lives impacted by this sport you understand," he said.
Barrera overcame addiction and gangs, and now mentors youth and adults through boxing.
"I am being used to help the kids, but they help me too," he said. "I get to come back to my old stomping grounds and give back to the kids."
Rowe said that by the end of the tournament, some triumphed and others came up short, but they all gained the respect of their fellow boxers and pride in themselves. All competitors received a trophy at the end of the event.
"To me, everybody is a winner," Barrera said. "It takes a strong person to get out there and compete."