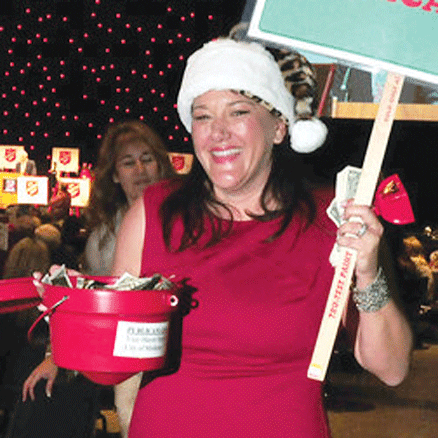 Modesto celebrates 20th annual Kettle Kickoff
By Michael Paugh, Captain
The Salvation Army in Modesto, Calif., celebrated its 20th annual Red Kettle Kickoff,  an event that has brought in almost $2 million in the last 19 years to support the Army's work in Stanislaus County.
In 1992, the Modesto Kettle Kickoff began in a small way at the local mall. Led by Betty Belle Smith and Hugh Barton, the event collected money for a community Thanksgiving dinner. That year, the kickoff raised $2,000.
The SOS Club hosted the fundraiser in 1993 when 200 people attended and donated $4,000.
Proceeds grew exponentially each year, up to the 2009 total of $227,000. Since then, the kickoff has taken place at the Centre Plaza, with attendance exceeding 1,100 people each year.
As a surprise jump-start for the 20th annual fundraiser, James Conforti of Memorial Medical Center and Paul DeChant of Sutter-Gould Medical Foundation presented a $20,000 check to The Salvation Army, and Oscar Cabello of Wells Fargo Bank presented a $10,000 check.
A video created by Never Boring Design illustrated how The Salvation Army works in the Modesto community to shield people from hunger, homelessness, sickness, injury, mental struggles, and other needs. The Army seeks to rescue people who are on the edge of poverty, and to give those who are homeless and in severe need the opportunity to change their lives and become a productive part of the community.
Guest speaker Colonel Dave Hudson, territorial chief secretary, spoke about the impact of The Salvation Army in changing the lives of the less fortunate throughout the Western Territory.