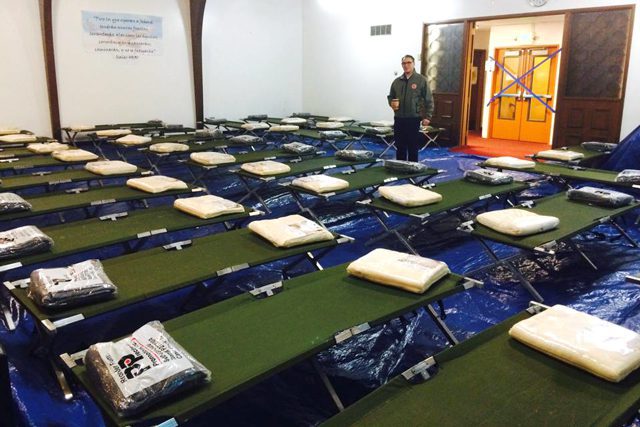 San Francisco comes together to help Mission fire survivors
Temporary shelter opens at San Francisco Mission Corps
The City and County of San Francisco and American Red Cross joined forces with The Salvation Army in late January to open a temporary emergency shelter at the San Francisco Mission Corps to help survivors of a four-alarm building fire in the city's Mission District. Sixty-seven San Franciscans, including 15 children, lost their homes and all of their belongings.
"The devastating Mission Street fire tragically took a life, destroyed many homes and small businesses," said San Francisco Mayor Ed Lee. "We are working closely to rapidly rehouse displaced residents and support small businesses as they recover. Confronted with the challenge of rebuilding their lives, we will continue to support them.We call on neighbors, friends and partners to assist the families and small businesses to help them recover from this tragedy."
The temporary shelter will serve as a place where survivors can stay until housing can be found for them. The American Red Cross opened a service center at the shelter, where survivors can meet one-on-one with Red Cross case workers to assess their situation, create recovery plans, navigate paperwork and locate help.
Other agencies and nonprofits are available onsite to meet with residents to determine their housing and resource needs. San Francisco Human Services Agency (HSA) is working to facilitate mid-to-long term housing matches.
"The Salvation Army, in partnership with the Red Cross, will provide the Mission Fire survivors with both shelter and a place of respite within their own neighborhood," said John McKnight, Emergency Disaster Services director for The Salvation Army's Golden State Division. "The Salvation Army Mission Corps has been a part of the Mission neighborhood for over 90 years and it's our privilege to serve alongside the City of San Francisco, its residents and partner agencies to help rebuild the lives of those affected by this tragedy."
The American Red Cross and The Salvation Army have established mechanisms to accept monetary donations for the disaster response.
"In an event like this, where the needs of the displaced resident are so great, they are best served when all of the responding agencies are coordinated. A response like this would easily challenge the resources of one agency, and the services required need to come from various programs. Only through a coordinated effort can all of the multiple resources be brought to bear, and that is the role of the San Francisco Human Services Agency [HSA]," said Benjamin Amyes, HSA disaster response manager. "Our role is to be sure that all of the needs are met as efficiently as possible by bringing together all of the responders and directing the residents to the services that best fit their needs."