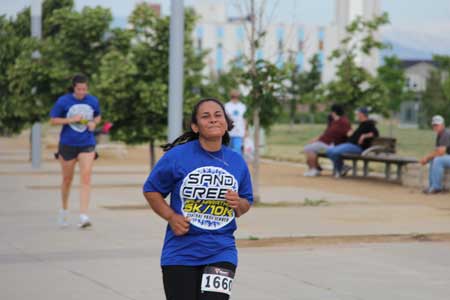 Mile-high mileage
Denver ARC merges running with recovery
By Ron McKinney, Major—
The Denver Adult Rehabilitation Center (ARC) joined with Feet on the Street Inc. to develop a running program that includes training, nutritional advice, health supplements and activewear. Eighteen beneficiaries are participating, including five women.
"There is the holistic impact on mind, body and spirit," said Nick Sterner, owner of Feet on the Street Inc., which organizes 5K and 10K races in Denver. "The way the program is designed offers beneficiaries an opportunity to engage in a healthy, active lifestyle and effectively puts them in touch with a community that is making positive health choices."
When the individuals began training, many struggled to run a quarter of a mile in Denver––an already challenging environment for cardiovascular training due to its mile-high elevation. Yet, Sterner said in a few weeks of training, they advanced to running up to 3 miles.
"If we can latch on early, you see a lot of [the beneficiaries] translate the incremental goal setting of athletics into other areas of their lives," Sterner said. "We've had a lot of guys tell us that [fitness] is why they stay in the [ARC] program."
Since the program's start in May, ARC beneficiaries have participated in two public races––the Cops and Robbers 5K Road Chase and the Sand Creek 5K, notching female second-place and male third-place individual finishes in the latter.
Sarah Lewis, a recent ARC graduate, was hired as a Feet on the Street Inc. employee shortly after finishing the program. She explained how the fitness component was key in her recovery.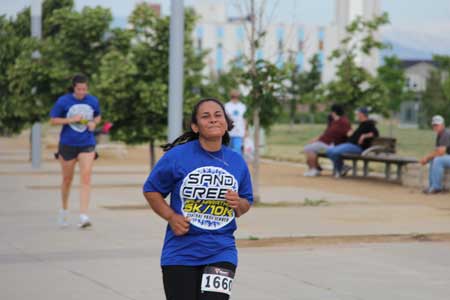 "I played soccer and I was running a lot…I lost that part of myself in my addiction," Lewis said. "My addiction was a way of numbing out my pain. Now, I don't want to numb it out. I want to feel pain. I want to feel the pain of running. Even when I know it hurts, I want to finish what I started."
Samantha Peel, Denver ARC program manager, noted that while physical health is key, the program is about much more than releasing endorphins.
"They make a commitment and that commitment becomes a goal," Peel said. "That goal then becomes structure and that structure becomes hope."
Training sessions are held every Tuesday and Thursday for men and every Thursday and Sunday for women. Sterner said the "goal race" for beneficiaries is a half marathon at Denver's Rock 'n' Roll Marathon in October. Those who compete in that race will then be encouraged to train for a full marathon in spring 2014.
"This is a dream job for me," Lewis said. "After we run, it's amazing how everything seems better. It's just a different coping mechanism. Running helps you process everything."