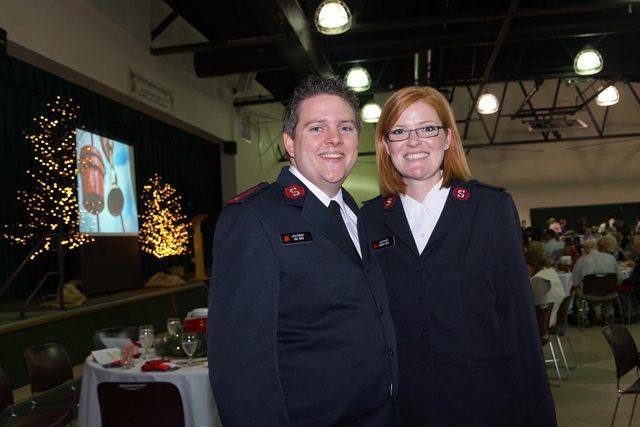 Merced kicks off its kettle season
The corps raised $27,000
At The Salvation Army in Merced, Calif.—led by Lts. Joel and Kimberly Boyd—officers, advisory board members and soldiers came together to host the annual kettle kick-off, raising $27,000—more than twice the amount of funds raised in the prior year.
"The best part for me was seeing how excited and engaged everyone was to be there," said Lt. Joel Boyd.
Those in attendance, totaling 185, included Merced Mayor Noah Lor and representatives of state government officials.
The event recognized the Merced Sun-Star, for its over 25-year partnership in helping raise funds through its holiday campaign called "Helping Hands at Christmas," in which the newspaper features stories about individuals who have been helped by The Salvation Army, asks readers to give, and then posts names, gift amounts, and a short message from donors in subsequent issues. Over the years the publication raised $1.25 million in contributions to Salvation Army programs.
"Giving back to the community is always an important part of what we do," said Valerie Bender, Merced Sun-Star president and publisher. "We will be glad to carry on this partnership with The Salvation Army for years to come!" A plaque was presented, with resounding applause.
Event entertainment included the Golden State Divisional Headquarters Christmas quartet, led by Golden State Divisional Commander Lt. Colonel Steve Smith, along with divisional staff officers Major Randy Kinnamon, Major Donna Bowman and Captain Dave Shull. They not only presented music, but provided spiritual leadership through prayer.
Boyd concluded the event with a personal story of his grandmother struggling in the 60s as a single mother. After being surprised by friends at the local Salvation Army, she and her family joined the ranks of the Army, leaving a history of service through children and grandchildren who are now advisory board members, soldiers, and officers in The Salvation Army.
"You'll never know how far just one act of love can go," Boyd said.