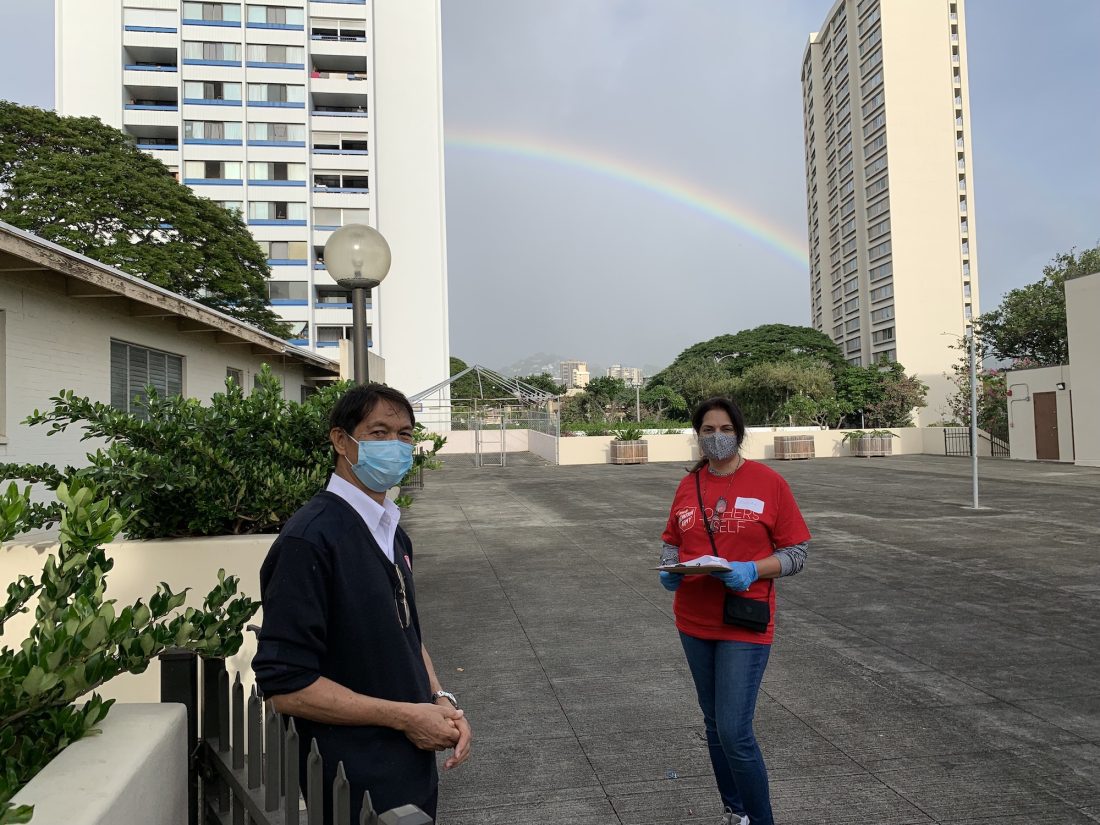 Meeting human needs in the aftermath of flooding in Hawaii—no matter how basic they are
In the aftermath of December's kona low storm system that brought heavy rains and subsequent flooding to Hawaii, Hilo Corps Officer Captain Sam LeMar got a call: An older adult—a kūpuna—was stuck in her house after trees had fallen and blocked her driveway. Amid the busy-ness of the disaster response coupled with the Army's kettle season, he and Cadet Jose Gonzalez knew what they needed to do.
"We bought some chainsaws, we headed out and we just cleared the driveway so they could get a car in," LeMar said. "We met the lady, the kūpuna, and she actually hadn't eaten for a couple of days."
It was clear she needed help. The pair made sure she was set up with a foodbox. They also helped locate her phone, which she had lost.
"She was grateful," LeMar said. "She was planning to get in her car and come down and give us a machete after we were all done."
While The Salvation Army is not known for cutting down trees in the wake of disaster, it is not out of the scope of the mission, LeMar said. Every natural disaster results in its own unique needs for survivors. Regardless of the disaster, The Salvation Army's Emergency/Disaster Services response aims to first meet those immediate needs of survivors and the emergency responders there to help.
But it's more than that. The response spans recovery and helping communities come back stronger and more prepared for future disasters.
"Maui got the brunt of it. Oahu got a lot of damages as well—[it was] very widespread on Oahu," said Divisional Director of Emergency Services and Safety Victor Leonardi Dec. 20. "The Big Island has some damages…too. Every island has at least one destroyed home."
On Maui, The Salvation Army Emergency Disaster Services, Maui County and other Voluntary Organizations Active in Disaster (VOAD) partners opened a Resiliency Hub at the Mayor Hannibal Tavares Community Center in Kula to assist residents affected by the flooding and water and power outages due the Kona low.
At the Resiliency Hub, from Dec. 7-9, people could receive free WiFi, food boxes and bottled water along with the ability to charge their devices at designated stations.
"We've had quite a few people that we know of [whose homes] are completely destroyed…basically they lost everything," Leonardi said. "So there's a lot of families who have mud in their house and…loss of clothes… We're working to address: How can we help them?"
Now, more than a month after the flooding, The Salvation Army is wrapping up assistance efforts to those who are trying to get back on their feet.
On Dec. 29, The Salvation Army held assistance events at its corps on Oahu, Maui and Hawaii Islands that offered disaster financial assistance as well as emotional and spiritual care. Leonardi said that the completion of the assistance efforts varies by island, with some islands having several slots remaining to fulfill assistance appointments as of Jan. 19.
In Hilo, most of the financial assistance is completed, LeMar said. And while the corps was distributing financial assistance for the December 2021 flooding, at the same time, they also distributed the rest of the assistance from the 2018 lava flow, which also caused destruction in the area. They'll serve as long as they're needed.
---
Do Good: