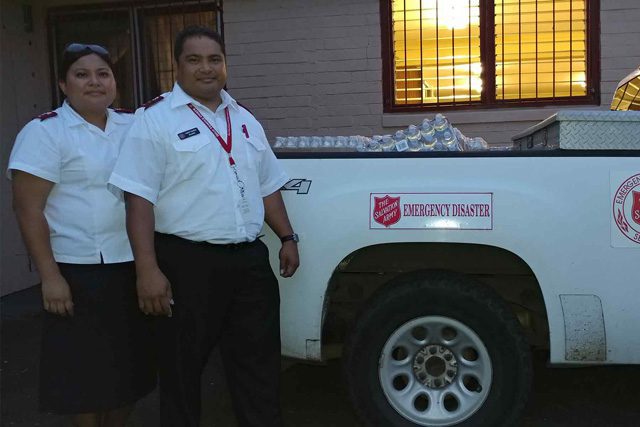 Salvation Army provides reinforcements for Puna lava flow response
Hawaii's Kileaua Volcano is showing no reprieve, nearly three weeks after a massive eruption forced more than 2,000 residents to evacuate.
The volcano erupted at least twice more over the weekend—at one point spewing a cloud of ash as high as 10,000 feet in the air. The lava flow even crossed Highway 137 and entered the Pacific Ocean, creating "laze"—a conflation of "lava" and "haze" formed when hot lava hits the ocean, sending hydrochloric acid and volcanic glass particles into the air. Laze can cause lung, eye and skin irritation. It has proven fatal in the past.
To make matter worse, lava has also entered the grounds of Puna Geothermal Venture, a geothermal power plant that provides about 25 percent of the Big Island's power.
All that to say, emergency personnel have their work cut out for them.
Staff and volunteers from The Salvation Army continue to support those affected by Puna lava flow at the shelters in Pahoa, Keaau and Puna. Teams are on-site coordinating meal service, hydration efforts, and offering prayer and counsel. Over the past two weeks, they've served more than 9,000 meals.
Personnel from outside Hawaii has even been called upon. Jenni Ragland, The Salvation Army Emergency Disaster Services Director for the Alaska Division, is currently stationed in Hilo, as part of the organization's Territorial Technical Assistance Team to help coordinate emergency response efforts.
The Salvation Army is also overseeing a distribution center in Pahoa three days a week that provides essential items to those in need. Current donations requested for the distribution center include: blankets, camping chairs, clothing, cots, flashlights, garbage bags (thick-outdoor), laundry detergent (liquid), mats, pillows, single-burner camp stoves, sleeping bags, tarps (thick), and towels.
There is also a continued need for volunteers to help sort items and staff the distribution center and to help sort clothing and other donations at the The Salvation Army's thrift stores in Honokaa, Hilo and Kailua-Kona.
To support relief efforts, visit hawaii.salvationarmy.org.