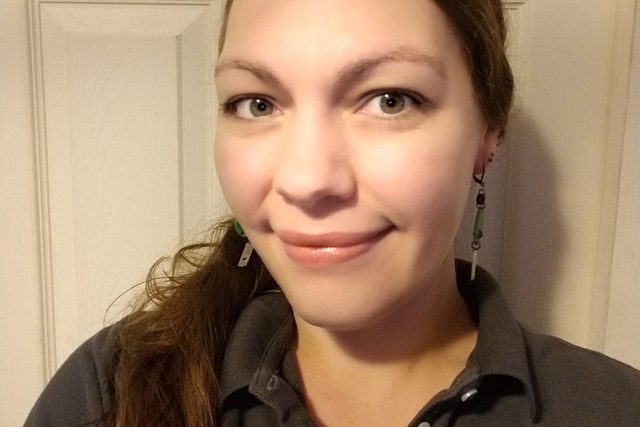 Meet Lisa Nicholson
Getting to know Salvation Army employees across the Western Territory in five questions or fewer.
Lisa Nicholson is a Backup/Database Specialist and IT Liaison for Alaska. Here she shares more about her work:
How do you explain what you do to someone unfamiliar with your work?
Most of the time when I say I work for The Salvation Army, people generally think about the family store. If asked specifically what I do, I generally explain that I help folks with technology all over the Western Territory—from Alaska to Hawaii, all the way to Arizona and in between. Most people are surprised that our Information Technology Department covers such a wide region. I rarely give my specific job title because it just doesn't fully describe the depth of what I do on a daily basis.
On any given day, I could be working on the backup infrastructure or I could be out in the field helping the local corps and programs with technology. As liaison, I do a lot of communicating with the divisional leadership to ensure their IT needs and expectations are being met. I often get to participate in other program events and initiatives that give back to the local community, which is something I really enjoy.
What is your earliest memory of connecting with The Salvation Army?
My mother and I used to go pick Angel Tree tags at the mall when I was very young. I would get so excited to pick out toys for someone my age. I fondly remember taking great care in not only picking the items, but packing and wrapping them beautifully. The wrapping was my favorite part. I also have been dropping my spare change in red kettles since about the same age. To this day I continue these traditions and enjoy volunteering at the annual Neighborhood GIFT among other community events.
What is one way you identify with what The Salvation Army brand promises—doing the most good?
I have always had a heart of service. When I was young and adults would ask me, "What do you want to be when you grow up?" My response was always, "I am not sure, but I know I want to make a difference in the world and in my community." I wanted to make the world a better place, and now I can do that through the work I do for The Salvation Army. Being able to give back to others in this way really makes my heart happy and is fulfilling both personally as well as professionally.
Describe a moment in your early life that deeply influenced you and, in some way perhaps, led you to the work you do today.
I was in the School of Nursing when I started taking college classes at 16 years old. By the time I was 18, I decided nursing wasn't the field for me, and ending up quitting school to work in a local café. After two years I realized I wanted something more and applied for assistance to go back to college. I had been thinking of going into human resources or social services at the time and was asked to do some professional interviews in the field for the grant I applied for.
I called a human resources director at a local native corporation and asked to interview her. She agreed and then stopped me mid-interview to ask what I knew about the field and why I was interested in starting my career in this particular area. I had no good reason other than I didn't want to work in food service anymore. She really made me stop and think, and encouraged me to do some research and soul searching.
Through this, I ended up pursuing a degree in technology while still working full time at the café. It was about a year after I got my degree that I quit my job and applied for the Support Tech I position at Alaska Divisional Headquarters. At the time, I just needed a job that would help me enter into the technology field. Now I know that it's no accident that this is where I ended up.
Tell us about a project you are working on or how you hope to impact The Salvation Army through your work this year.
In December 2018, I proposed purchasing a product that not only protects our Office365 cloud environment (Outlook, OneDrive and Sharepoint backup) but gives us an added email security layer as well as a legal archive. This was approved, and I am currently working to populate all the historical archives. I am helping with the initiative to get off of Lotus Notes entirely as well as the Cyber Security initiative, among others.
As the IT liaison for Alaska, I will be helping with some major program relocations this year. It is always fun to get out of the office and into the field to really see the impact being made in the community.  I appreciate being able to be involved in many different areas of our department and organization and not just limited to one specific area of expertise. I know that there will be tons more fun and exciting things that come my way this year, and I am looking forward to continuing to serve in my position, which in turn, supports the greater mission of The Salvation Army.