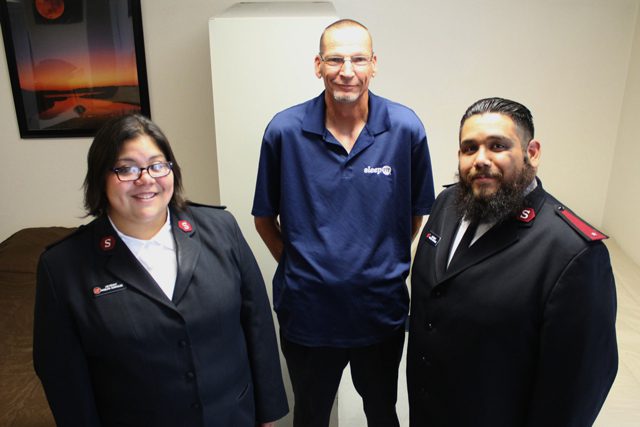 Mattress Land SleepFIT gives Reno ARP a boost
By Sydney Fong –
In early July, Mattress Land SleepFIT donated 70 new mattress sets, mattress pad covers, sheets and pillows to The Salvation Army's Men's Adult Rehabilitation Program (ARP) in Reno.
"It just uplifts what these guys are going through, and it gives a little boost to make it more of home, instead of just a room with four walls and a bed," said Lt. Michael Dominguez, Reno assistant corps officer.
Mattress Land SleepFIT has made similar donations to The Salvation Army in California, but this was the first time the company contributed a large gift in Northern Nevada.
"As the old saying goes, it's about paying it forward," said David Kimmet, Mattress Land SleepFIT distribution center manager.  "We all need help at some point, so it's our honor to give back to the community."
Dominguez said the mattress donation is just a first step to "rehab" the image of the program's living areas. He hopes other local companies or donors could financially sponsor a room or donate toward the room's interior decoration.
Mattress Land SleepFIT is locally owned and based in Fresno, California and operates 24 stores in four states (California, Nevada, Idaho and Washington).