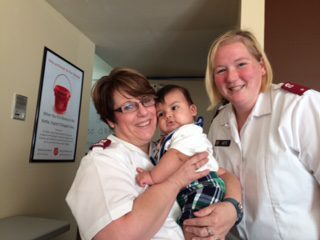 Marian Pritchett School broadens reach
Boise high school revises a nearly century-old policy to better serve its teen population.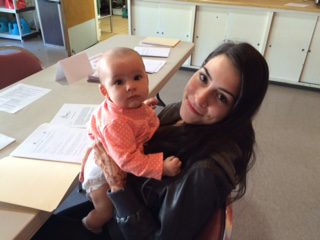 Following nearly 100 years of service to pregnant and parenting teen girls, The Salvation Army Booth Marian Pritchett (BMP) School in Boise, Idaho, has starting enrolling young men as well.
Once a Booth Memorial Home and Hospital, the facility transitioned to an accredited high school for pregnant and parenting teen girls more than 50 years ago through a partnership between the Boise School District and The Salvation Army.
Two years ago, a teen father approached the school, asking to be enrolled along with his pregnant girlfriend who was a student. "How can I expect my child to graduate high school if I never did?" he asked.
"Once the door was opened for this first young dad, we discovered several others waiting in the wings to step up to the plate to complete their high school education in a supportive environment while also learning how to co-parent," said the school's Salvation Army liaison, Major Rhonda Lloyd. That year three teen fathers joined their female counterparts in the classroom at what had been an all girls' campus for nearly a century.
The first teen father to graduate received his diploma in 2016, and seven more young men are currently enrolled at BMP.
"Many of the concerns about a change to the culture here dissipated as we observed teen dads in the childcare center diapering, feeding and consoling their children, while making honor roll for their academic success," Lloyd said.
Head teacher Deborah Hedden-Nicely said she has seen a sense of peace and calmness on campus since the addition of the dads.
"It's truly an illustration of how the joys and responsibilities of parenting can be shared by both mom and dad," she said. And female students agree.
"I came to Booth Marian Pritchett because I knew that I would get a lot more support, especially help with resources and to be able to focus on my education," said student Laura Cross. "Having Mitchell [the baby's father] here is great, too, so we can both finish our high school education and both learn parenting skills."
One young father said he was grateful for the opportunity to finish high school, and more. "It's comforting to be here with my son and to be with other students who are experiencing the same thing," he said. "We like the Giraffe Laugh child care center. The staff is really trustworthy."
To address the need for affordable child care for young parents seeking to continue their education, The Salvation Army contracted with the Boise nonprofit child care provider, Giraffe Laugh, to ensure children are cared for on campus.
"It is our desire to teach the students that finishing their education is their first job and one of the best things they can do for themselves and their child, while doing our best to remove obstacles to ensure their success," said Lindsay Klein, Salvation Army social worker and program director.
Among its other services, the school provides weekly life skills classes, coordinated by Klein, that cover topics from "Hands on Banking and Budgeting" to "Custodial Agreements and Healthy Relationships" as well as prenatal and parenting classes with community volunteers providing instruction. A WIC (Women, Infants and Children) representative meets with students on campus and a volunteer-run incentive store provides diapers, wipes, student clothing, household and hygiene supplies. Students purchase items each week with "Booth Bucks," earned for class attendance and participation.
New mothers return to class just 10 days after birth and are encouraged to participate in the care and feeding of their infant while at school. Babies are often seen in the classroom at feeding time and students are required to keep their children with them during lunch, allowing for bonding and instruction in as natural a setting as possible.
The Booth Marian Pritchett School reached its capacity this year at 50 students. The Salvation Army in Treasure Valley is conducting a capital campaign to raise $8.5 million—with $3.5 million to go—for a new Ada County campus to accommodate 125 students and 100 babies.