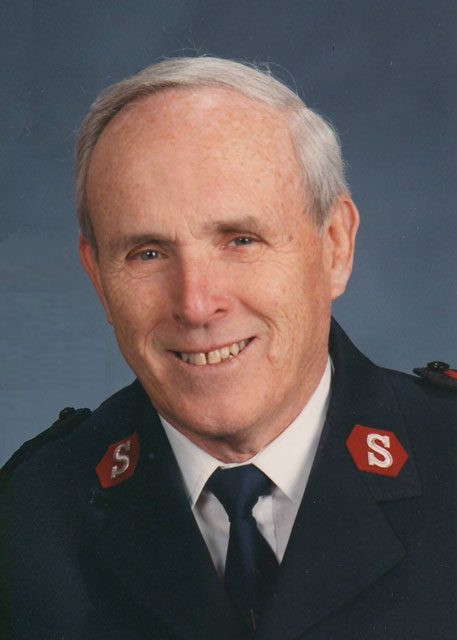 Major Thomas Elliott
Major Thomas Elliott was promoted to Glory March 23 from Beaverton, Ore.
He was born Dec. 6, 1926, in Broadus, Mont., to George and Mildred Elliott.
Elliott entered The Salvation Army School for Officer Training from the Coos Bay, Ore., corps and was commissioned in 1946 with the Challengers Session. He met Merle Parsons at the The Salvation Army's Trestle Glen Camp in Oregon, and they wed in 1949.
The Elliotts served in 17 corps and headquarters assignments throughout the Western Territory. After more than 39 years as active officers, they also accepted several post-retirement positions. Some of their longer appointments include Olympia, Wash. (seven years), Redondo Beach, Calif. (five years), and Inglewood, Calif. (seven years).
Elliott believed in innovation and keeping The Salvation Army's services relevant to people's needs. He instituted programs like the Angel Tree and Meals on Wheels in corps 45 years ago. He also managed the planning, design, funding, property purchase and construction of the Torrance Corps in the late 1970s.
Known for his gift of communication and servant's heart, Elliott used his dry sense of humor, simple language and love of people and God to effectively touch the hearts of his congregation.
The Elliotts retired in 1991 and settled in Beaverton.
Elliott is survived by his wife and children: Sharon (Bob) Gregg, Diane (Ed) Henderson, Jerry (Becky) Elliott, Janet (Bob) Yardley, and Jeff (Mary) Elliott; 11 grandchildren and seven great-grandchildren.
A celebration of life service took place at the Portland (Ore.) Tabernacle Corps March 29. In remembrance, donations may be made to the Major Tom Elliott Youth Music Scholarship at the Portland Tabernacle Corps, 1712 NE Sandy Blvd., Portland, OR 97232.