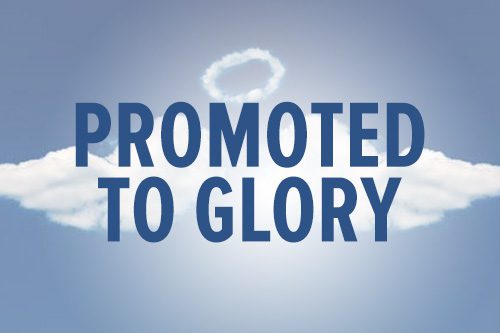 Major Jennie M. Torgerson
Oct. 6, 1931–Feb. 2, 2020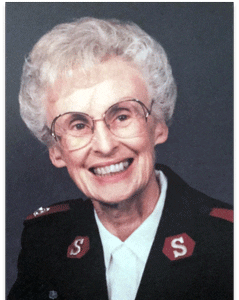 Major Jennie M. Torgerson was promoted to Glory Feb. 2 from Sun City, Arizona.
A fourth-generation Salvationist, Jennie Hall was born Oct. 6, 1931, in San Jose, California. 
After graduating from Inglewood High School, in Inglewood, California, she attended beauty school and worked around the Los Angeles area as a beautician.
In 1952, responding to God's call, she left for San Francisco with her sister Dorothy Hall (Erickson) to become a cadet, training for Salvation Army officership in the Heralds Session. While there, a fellow cadet, Barbara Johnson (Hood), encouraged Jennie to write to her brother, who was fighting in Korea. Thereby, Dale Johnson entered her life.
When commissioned in 1953, Lt. Jennie Hall was stationed in Modesto, California, as assistant to Captain Lorraine Wilson.
In June 1954, Hall married Dale Johnson, who entered The Salvation Army Training School; he was commissioned in 1955.
Jennie Johnson served faithfully in corps and Adult Rehabilitation Center appointments in California, Alaska, Idaho, Oregon, Hawaii, Washington, Colorado and Arizona.
After retirement, she married for a second time to Don Torgerson.
She is survived by children: Kathryn Arnold (Steve), Karen Fournier (Ken) and Bob Johnson (Tamara); grandsons: Jason Arnold (Kary), Matthew Bunch, Jared Arnold (Christina), Daniel Bunch, Nathaniel Bunch (Chelsee) and Jonathan Bunch; great-grandchildren: Kimberly Arnold, Raymond Arnold, Stephen "Jack" Arnold and Erik Arnold; and sister: Major Elizabeth Clitheroe (David).
A celebration of life service took place at the Glendale (Arizona) Corps Feb. 27 with Major Harry Lacey officiating.