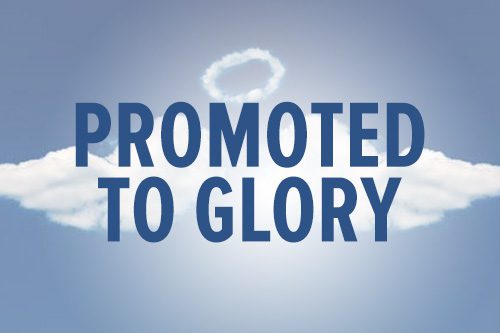 Major Frank Ruml
March 18, 1927–Aug. 9, 2020 
Major Frank Ruml was promoted to Glory Aug. 9 from his home in Riverside, California.
Francis (Frank) Remi Ruml was born March 18, 1927, in Mitchell, South Dakota, the second of three children born to Stella van Overschelde and Ernest Ruml, a farmer. In 1943, the family moved to Tacoma, Washington, to work in World War II-related industries. Frank Ruml first went to work in a food processing plant canning beans and then at Todd Pacific Shipyard as a welder. In 1945, he enlisted in the U. S. Navy, where he would spend the next 20 years serving.
After completing basic training in San Diego, Ruml chose the medical field as his career path and became a corpsman, training first at the Naval Hospital in San Diego, and then the Naval Hospital in Corona, California.
During this time, in 1945, Ruml's sister, Marjorie, introduced him to his future wife, Esther Ball. Marjorie brought Esther—her husband's sister—with her when picking Ruml up at the train station for a visit. Ten months later, on Feb. 2, 1946, the couple wed in a civil ceremony in Tijuana, Mexico; in 1947, they had a garden wedding at the Ball family home. For the next 66 years, they were known simply as "Frankanesther."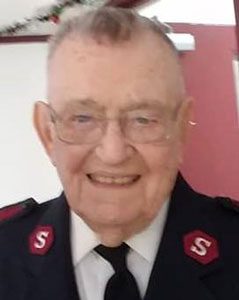 One month after his marriage, Ruml reported for additional training at Naval Medical School, Bethesda, Maryland, where he settled on radiology as his profession. He returned to San Diego as an X-ray technician. Esther stayed in San Diego while Ruml was at sea. He served on the USS Montague, USS Wiseman, USHS Consolation, and USS Bayfield. He held temporary assignments to Japan, South Korea, Thailand and Vietnam. Despite his many sea duties and temporary duty assignments, he always came back to the Naval Hospital in San Diego, retiring from there in March 1965.
The Ruml family then moved to Whittier, California, where Frank worked as Chief Radiologic Technician for Presbyterian Intercommunity Hospital. After marrying Esther, Ruml had attended the San Diego Temple Corps; now he became active at the Whittier Corps: teaching Bible studies, working with youth, serving the community and playing in the band. He loved playing the tuba.
In 1969, the Rumls felt called to Salvation Army officership. They entered The Salvation Army School for Officer Training in San Francisco with the Victorious Session; they were commissioned in 1971. Initially, they were assigned to Women's Social Services, directing Booth Memorial Home and Hospitals in Oakland, California; Anchorage, Alaska; and Denver. With the merging of Men's and Women's Social Services into the Adult Rehabilitation Command (ARC), they spent the next 22 years in charge of ARCs in San Francisco, Lytton and Santa Monica, California; Tacoma and Seattle; Honolulu; and Colorado Springs, Colorado. Retiring out of Santa Monica, they settled in Riverside. 
After retiring, Ruml was called back into service several times: to direct the relief efforts on Kauai (Hawaii) after it took a direct hit from Hurricane Iniki; to plan and build a new residence at the San Bernardino ARC; to assist in the planning of the Perris ARC; and as temporary administrator at several ARCs. He also remained active at the Riverside Corps as Corps Sergeant-Major; in the Christmas kettle program; in Celebrate Recovery; and as a band member.  
Ruml is survived by his sons: Ron and Darrell (Carol); several grandchildren and a great-granddaughter.
A celebration of life service was held Aug. 29 at the Riverside Corps.