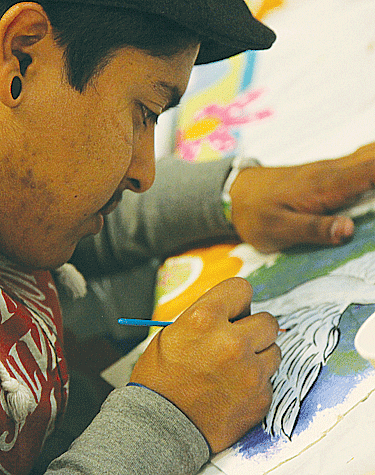 Love Extravagantly Redeeming the Heart of Worship
Delegates gather for Territorial Worship Arts Retreat.
By Sarah Kalentermidis
"Love Extravagantly" was the theme for this year's Territorial Worship Arts Retreat, held at Camp Redwood Glen, Feb. 18-20. The retreat, put on by the Territorial Music department—led by Neil Smith—focused on Jesus' extravagant love for us, and how we can express that same love in various outlets and media. A total of 209 Salvationists traveled to Scotts Valley, Calif., for the event.
Workshops included drama with the Lacey Theatre Company; dance with Alicia Hood, a choreographer; photography with Nikole Lim; video production with Chris Toy; praise and worship with Abraham Guevara and the band; and preaching with Bart Tarman. These classes aimed to educate and encourage delegates to develop and use their gifts to worship God and express love to others.
During the united session, Tarman focused on the love of Jesus and our responsibility to share that love with others, saying, "Jesus didn't tell his disciples 'Worship me.' He said 'follow me. Follow me. I will show you how to love.'"
Tarman challenged the group to exercise "preemptive love," reflecting God's love; he loved us before we even thought about loving him. Tarman also spoke on the need for our identity to be immersed in the identity God gives us as his beloved. An incredible storyteller, Tarman believes in the importance of teaching and preaching the gospel. Reminded of the importance of the Gospels, Krystina Macias (Whittier Corps) said, "They are the books about what Jesus did and said; we should continually be rooted in them and in Jesus—a very humble and challenging goal."
Later Friday night, delegates viewed Nikole Lim's documentary While Women Weep. On Saturday evening, the Lacey Theatre Company presented an 80-minute show called Word on the Street, by Rob Lacey. The group received a standing ovation as an all-female three-person cast walked through the entire Bible using wit, humor and song.
At Sunday's worship service, Territorial Commander Commissioner James Knaggs gave a motivating and spirit-igniting sermon. Andrew Smith (South San Francisco Citadel Corps) appreciated Knaggs' challenge—"to recognize, redeem, and then rev up the gifts that God has given to us." The challenge can and should be shared by every follower of Christ, using spiritual and creative gifts for his glory. Knaggs' message summed up the weekend, leaving everyone with a mission and a fighting spirit.
Smith credited the retreat's success to Creative Arts Director Joy Lee, who planned and executed it. He said, "Five years ago when we started this event, we were not sure where we were headed. Now, with the excitement and interest building in worship arts, we know that God has great things in store."
Back at home, the delegates' challenge is to reach others, loving them the way Jesus does and fighting spiritual battles, not avoiding them, with the most important—really the only—weapon we have: love. Just as Knaggs rallied at the end, "Now it's time to make W.A.R.!"
Save the date for the next Worship Arts Retreat, Feb. 10-12, 2012.