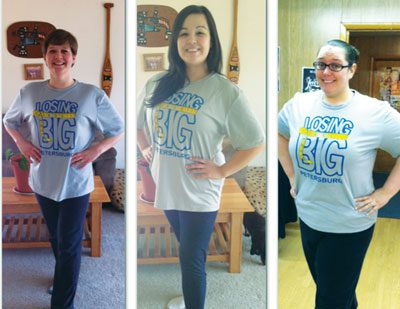 Losing BIG in Alaska
Members of Petersburg Women's Ministries fitness group selected for city challenge.
The Salvation Army Petersburg Fit Club started with the mission: to take care of the temple—the human body the seat of the soul. Founded by the Petersburg Alaska Women's Ministries in 2012, members of the club meet three to four times weekly for an hour of aerobic exercise. Each session includes a devotional, time for prayer and encouragement.
In January, the club saw increased incentive to join when the Petersburg Parks and Recreation Department accepted applications for a six-week health and fitness program called "Losing Big Petersburg," inspired by the reality TV show "Biggest Loser." During the program, which began Feb. 6, participants followed 12 rules including meal planning, exercising, journaling, drinking three liters of water per day and maintaining honesty with teammates and staff.
Corps Officer Lt. Christin Fankhauser and club member Veronica Maldonado applied and encouraged the other women to do so. Limited to 10 participants, Losing Big Petersburg randomly selected Fankhauser, Maldonado and Christy Ware as contestants for the city challenge.
Ware quoted 1 Corinthians 6:19-20 and said, "I want to treat my body as Christ's temple and to show my children that you can be healthy and an athlete even when you're as 'old' as mom."
Losing Big Petersburg split the 10-person group into two teams of five. All three women were on the same team. In the end, Fankhauser was the champion, chosen by popular vote. She lost 12 pounds during the competition adding to another 20 pounds lost previously in Fit Club. Her grand total weight loss was 32 pounds.
"We learned a lot about overall health and wellness, including things that you know but don't always keep in mind like stress relief, target heart rate, and taking good care of your feet," Fankhauser said. "We made some new friends through the process, and people in the community were genuinely interested and supportive of the program."
The grand prize included a one-year gym membership, a $300 fitness equipment package, an iPad, a sport fishing trip for two, a jacket and a new pair of shoes. Although the competition is over, Fankhauser and several of her team members are training for a May 4 triathlon.
"The competition is over, but our desire for achieving our health and fitness goals is still there," she said.