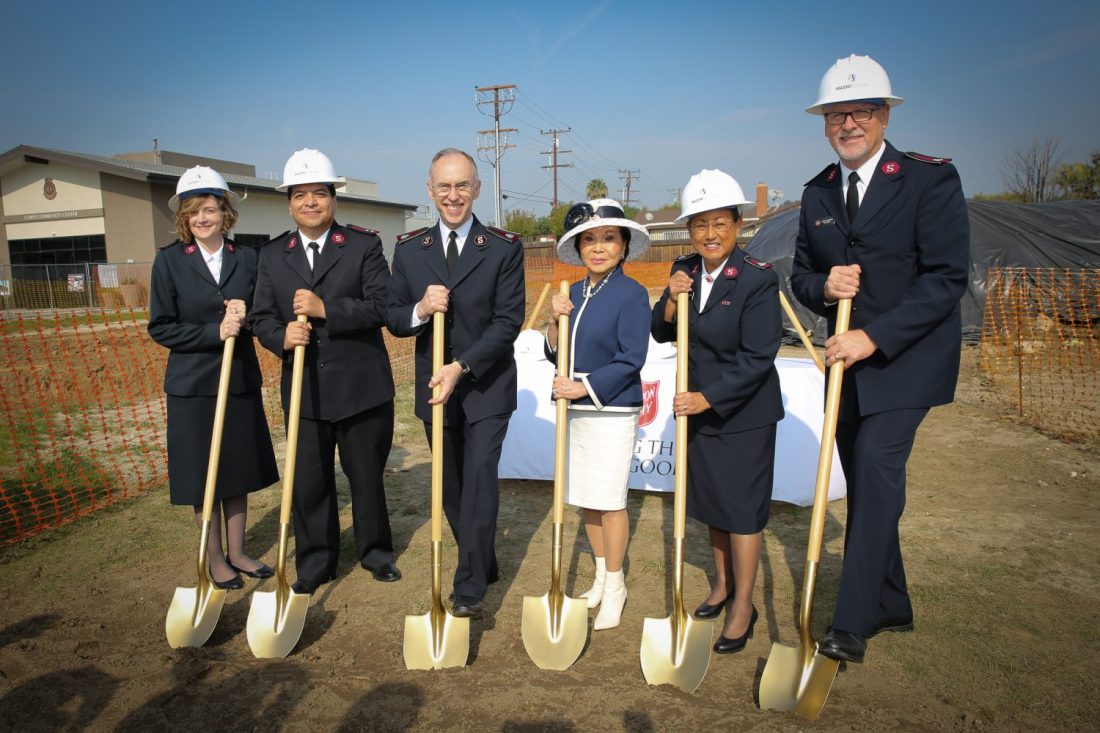 Long Beach Salvation Army breaks ground on Red Shield center
The Donald and Priscilla Hunt Red Shield Corps Community Center is set to open in 2021.
By Karen Gleason –
The Salvation Army Long Beach (California) Citadel Corps broke ground Jan. 15 for what will be The Donald and Priscilla Hunt Red Shield Community Center, expected to open early in 2021. The center will comprise a gymnasium/fitness center, a 40,000 square-foot athletic field, a playground and community garden boxes. The estimated cost for the center is $8.5 million.
Priscilla Hunt, matriarch of the Hunt family, spoke during the ceremony about the importance of giving back to the community and helping the less fortunate. 
"Being charitable is a way of life," she said.
Western Territorial Commander Commissioner Kenneth G. Hodder also spoke, as did California South Divisional Commander Lt. Colonel John Chamness.
Captain Sergio Garcia, Long Beach Citadel Corps Officer with his wife, Stephanie, opened the celebration, acknowledging Hunt and the legacy of her husband, Donald. He also recognized the civic leaders in attendance and introduced master of ceremonies, John Arens III, a new member of the Long Beach Advisory Board.
Arens spoke about how essential it is to raise children carefully in what can be a tough world.
"The Donald and Priscilla Hunt Red Shield Community Center will do the work of God where young people will find foundations that will take them far…they will grow up feeling safe, loved and understanding the true meaning of character," Arens said. "The Red Shield we break ground on today will become a beacon of hope for this community."
Chamness acknowledged the Garcias for their efforts in recent years to make the dream of this center a reality. He then emphasized the importance of community centers with after-school programs.
"Wouldn't it be great if we give kids the tools they need so they never end up in poverty? That's why community centers like this are important," he said. "The Salvation Army is all about change, and The Donald and Priscilla Hunt Red Shield Community Center will be change made tangible." 
Chamness said that money spent on a community center like this one is the best investment The Salvation Army could make in the future of our communities.
Hodder spoke about how The Salvation Army works to change lives.
"Surrounded by so much poverty, despair and unfulfilled promises, The Salvation Army will do anything and go anywhere if it will help improve the lives of others," Hodder said.
After describing the life-changing work of the adult rehabilitation centers, he expressed the hope for this Red Shield Center: "Our prayer is that those children are running toward a positive future and that the families that are brought together in this place will become strong and cohesive—that there may be love and joy and peace in their lives. That is why we do what we do."
Hunt spoke next. "I am humbled that this wonderful place, where young and old alike will find love, assistance, joy and hope, will carry the Hunt family name," she said.
Hunt said she believes so strongly in this project that her family has provided an additional $2.5 million for it.
Stephanie Garcia shared her testimony of how she came to The Salvation Army and the difference it made in her life. Her childhood was difficult; she didn't feel safe at school or at home. A friend invited her to The Salvation Army in San Pedro (California) when she was 11. Her life changed. 
"For the first time in my life, I had a safe space," she said. 
At age 14, she realized other kids were out there suffering the way she once did, and she decided to become a Salvation Army officer.
"As a kid whose life was transformed, I thank you," she said.
Sergio Garcia said he believed William Booth would understand what The Salvation Army is trying to do at the Red Shield Center, which is Phase 2 of a total renovation of the Long Beach Citadel Corps. Phase 1, the new chapel building, was dedicated in 2017.
Professional musicians Dan and Donna Oxley performed during the ceremony; Dan is an instrumentalist and Donna a vocalist. A Salvation Army brass band performed before and after the ceremony. 
Lt Colonel Lani Chamness, California South Divisional Director of Women's Ministries, gave the benediction prior to the ceremonial groundbreaking.