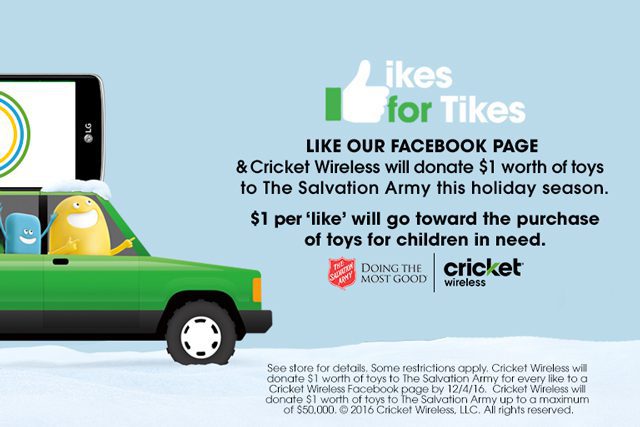 Likes bring toys
Cricket Wireless to donate based on your participation.
Cricket Wireless and The Salvation Army teamed up with "Likes for Tikes," a campaign running through Dec. 4 that will result in a $1 donation for every "like" up to $50,000.
Anyone can donate by clicking "like" on a participating Cricket Wireless retail store's Facebook page.
"At Cricket, we're passionate about giving back," said Tiffany Baehman, Vice President and Chief Marketing Officer for Cricket Wireless. "Every child deserves to wake up with a smile and a gift under the tree. We want to give as many kids as possible that experience."
This is the second time Cricket joined with The Salvation Army to help kids in need. In July, the "Stuff the Pack," back-to-school supply drive helped provide kids with the tools they needed to be successful this year.
"We are so grateful for Cricket's commitment to helping families in need through The Salvation Army. Thanks to our partnership, many low-income children went to school this year equipped with school supplies and now many more will wake up on Christmas morning to toys under the tree, " said Maria Todaro, Corporate Relations Manager for The Salvation Army Western Territory.
In early December, Cricket employees will purchase toys in each participating market and deliver them to a local Salvation Army distribution center.