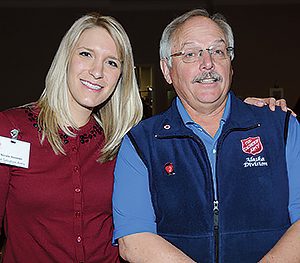 Life with The Salvation Army
Advisory board member and volunteer writes about his experience.
By Nick Pepperworth
For the last six years I have served on the Alaska Salvation Army Advisory Board. Through this I got involved in the Season of Giving Bell Ringing Luncheon, the largest fundraiser of the year for The Salvation Army here.
I partnered with a wonderful group of individuals and local businesses to help support this effort. I know from being on The Salvation Army Finance Committee how well the Army protects and honors each dollar that is given, and the vast amount of help it brings to our local community. I found that The Salvation Army directs more of each dollar to people in need than most—if not all—charities. Therefore, helping The Salvation Army makes me "happy, happy, happy."
With the help of many friends, businesses, and co-workers at Udelhoven Oilfield System Services, for six years we have been the top celebrity bell ringers, raising a total of $165,493 for The Salvation Army.
Two years ago we won the national contest and scored a trip to Dallas where the Cowboys usher in the nation's official bell ringing season during the halftime show. I work with a great plumber who is a diehard Dallas Cowboys fan; he and his wife gladly took my place at that event.
My first encounter with The Salvation Army came shortly after I had surrendered my heart and life to Jesus Christ in 1967.
I met (then) Captain William Nottle, who was serving in Bellingham, Wash., when he befriended a few of us at a small coffee shop on State Street close to Western Washington University. The place was called "Superior Cleaners," properly named after Jesus: the only one who can change your life and your address from the "kingdom of darkness" into the "kingdom of light."
Captain Nottle was so kind, helpful and accepting of the new "Jesus People" revival converts—you just had to love the guy. I recall him asking me to help in the basement of the downtown Salvation Army Thrift Store. It turned out to be a great experience, especially being a new believer and having the ability to offer service and surrender to the Lord.
This is the mantra of today's Salvation Army: "Doing the Most Good." How could it not be a good thing to serve the Lord by serving all people that he has created with out discrimination?
God has richly blessed my life and I am grateful and willing to go where he wants me and serve where the need is great.
Lord, help me to find where you are working and give me the wisdom to join you there.
Nick Pepperworth is vice president, mechanical administrator and project manager for Udelhoven Oilfield System Services in Anchorage, Alaska.