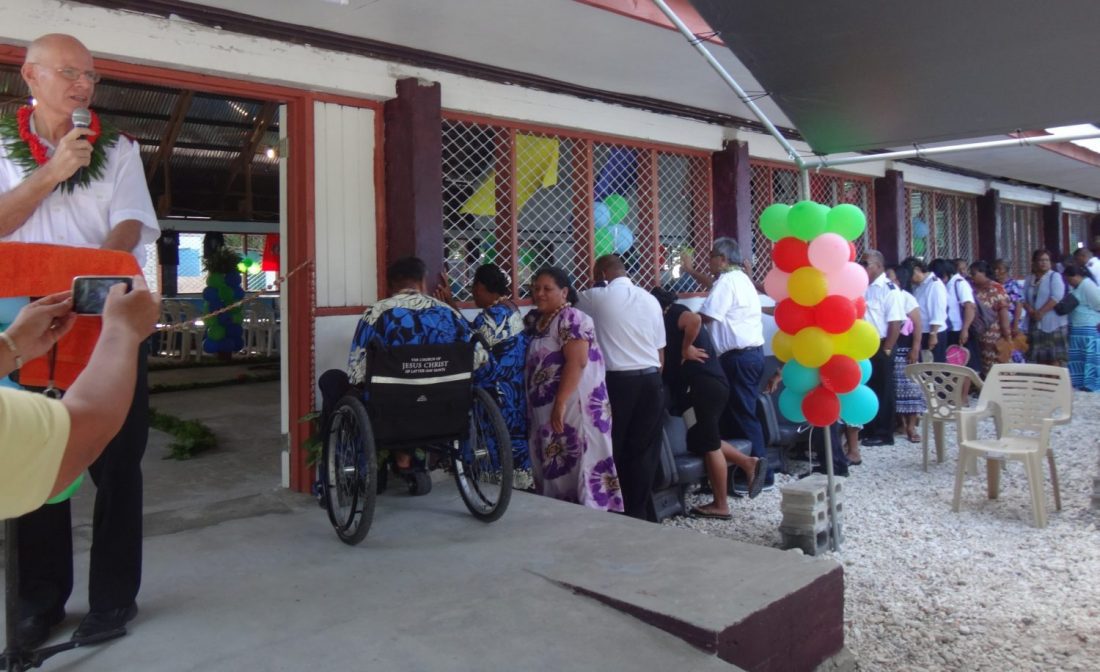 Laura Corps expands
The Salvation Army grows to meet needs of Marshall Islands community.
By Karen Gleason –
The Salvation Army Laura Corps completed a major expansion, a project initially funded entirely by corps members. People donated whatever materials they could, including concrete blocks, and volunteers did the actual construction labor. As work continued, the corps received unexpected funding that covered remaining costs from the Single State Agency (SSA) for Substance Abuse Services—part of the U.S. Department of Health and Human Services. Located on the Majuro Atoll in the Marshall Islands, the corps building formerly could hold only 90 people; yet it has 156 senior soldiers and 100 junior soldiers.
"People would sit outside of the building and listen to the music and sermon through the open windows, but today a combined total of 300 people come together during the morning worship service and the evening praise meeting every Sunday," said Corps Officer Captain Mioshi Anwot. "The corps is like a safe house to the community—a lighthouse to meet the needs of the people."
The SSA donated over $37,000 worth of materials for expansion.
"The SSA sees the value of contributing to this project as the Laura Corps will be a place that provides services that benefit the entire community," said Major Judy Bennett, Marshall Islands Leadership Training Center director for The Salvation Army.
"What a gift to the community," said Julia Alfred, SSA director. "To have a building where families can worship and be strengthened and people dealing with substance addiction can find salvation and where the hungry can get fed is promising indeed."
In addition to traditional Salvation Army programs including Home League, men's fellowship and Young People's League, the corps has two new initiatives in the works: "Music Matters" will help youth drop-outs hone their talents with musical instruments, and a six-month preventative program for families struggling with economic issues will offer counseling, devotions and refreshments. Adding to its senior nutrition program, the corps is helping nurture three babies—referrals from the Laura Dispensary—feeding them so they will gain weight appropriately.
The Laura Corps community worked hard to complete the expansion project by Dec. 24 for a Christmas Eve dedication, followed by four weddings and a feast. Roughly 400 people attended—corps members and others from the community, including Alfred.
The relationship between the Laura Corps and the SSA began in May 2015 when the corps sponsored a three-day retreat on Ajokle Island for local church and community youth, funded by SSA and local in-kind donations. Volunteers taught weaving, fishing and other cultural arts. Representatives from Youth to Youth in Health provided health and sex education.