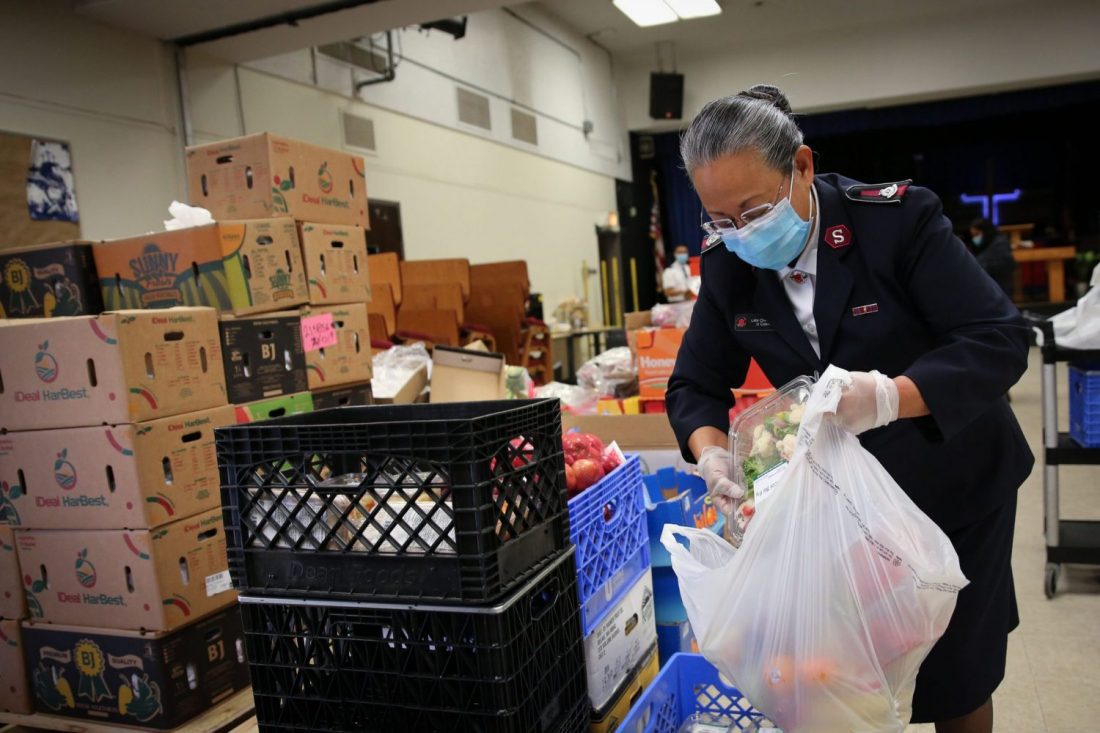 Latest Updates: COVID-19 and The Salvation Army
Updated May 27, 2020, 2:47 p.m. PT
In the wake of the COVID-19 pandemic, The Salvation Army continues to house the homeless, feed the hungry and meet human needs in every respect. If you're in need, please call your local Salvation Army or find a location near you at westernusa.salvationarmy.org.
Continue to check back here for the latest resources and updates regarding COVID-19 and The Salvation Army.

The Salvation Army in the USA Western Territory is responding to COVID-19, following the motto: "Keep calm and do the mission."
Members of the Territorial Executive Council (TEC) continue to hold regular teleconference meetings with command heads to share updates regarding The Salvation Army's response to COVID-19.
"I remain convinced that there is no other organization that is capable of addressing the broad variety of human needs that have emerged as a result of this crisis," said Territorial Commander Commissioner Kenneth G. Hodder.  "The Salvation Army has the personnel, we have the infrastructure, we have the credibility, and above all, we have the mission. Our calling to proclaim the gospel of Jesus Christ and meet human needs in his name without discrimination positions us, and in fact requires us to play a unique part in addressing this situation."
Streaming Ministry
Across the territory, Sunday worship for Salvation Army corps is beginning to reopen, with online worship available as well. The territory released guided online worship materials and held an online Easter worship service featuring a message of hope from Commissioner Kenneth G. Hodder. 
Event Updates 
Due to the COVID-19  pandemic, the West will hold its first ever virtual Commissioning weekend June 13-14. 
"While this decision has not been easy to make, we believe that by joining together online we can still have a wonderful celebration of God's provision for the Army, and we can celebrate together from our homes the God in whom we believe," Hodder said April 2.
On April 1, Hodder announced the cancelation of the camping ministry across the West this summer—including divisional camps, the Western Music Institute and the Western Youth Institute. A task force on the subject considered the potential impact of COVID-19 on camps and made the recommendation to territorial leadership. 
"It is with a heavy heart that we close camps as we know it is a vital Army ministry—critical to the children and our outreach in every division; this is where kids find Jesus," said Chief Secretary Colonel Douglas Riley, who chaired the task force. "The decision was reached for the protection and safety of all concerned and we will reopen when we can meet and resume full operations in a safe and secure environment for kids to enjoy the great outdoors."
Commissioning and camping season join a long list of modified and canceled events, including the Territorial Executive Conference (expected to now take place online); Territorial Officers Institute (TOI); Service Corps; Brengle Institute; National Seminar on Holiness (now being planned for 2021); International Conference of Leaders; and the National Advisory Organizations Conference (NAOC).
Command Updates 
On May 6, scaled-back changes of appointment were announced. Throughout the West, The Salvation Army continues to open its facilities to public authorities for use as quarantine centers, housing for medically fragile individuals, food distribution locations, coronavirus testing and any other services as needed. All Western officers will remain on Emergency/Disaster Services (EDS) duty until the end of May, Hodder said May 22. 
Following a California Stay at Home order, Territorial Headquarters (THQ) moved to a location-critical staffing pattern March 20 that has been extended until June 15. 
"THQ is continuing to function smoothly and support you in the field," Hodder told command leaders.
Adult Rehabilitation Centers Command (ARCC)
The Adult Rehabilitation Centers Command (ARCC) continues to reopen thrift stores. On May 22, it reopened a pair of stores in Pasadena along with 13 others in the West. A week prior, the Army first reopened three stores in Phoenix, Arizona, that generated a total of $19,335. At this time last year, six area stores totaled $12,430. ARC Commander Major Henry Graciani said the stores are continuing to surpass last year's numbers.
The West's 18 ARCs remain closed campuses to protect beneficiaries. Graduations continue, and while intakes remain on hold, centers are building a waiting list and leaders are trying to find better health screening tools for intake, Graciani said. Fortunately, the centers have not seen any cases of COVID-19 among the beneficiaries and regular cleanings have been increased. While some centers have had a few beneficiaries leave the program, other centers remain at capacity. 
Eight women from the Denver program were dispatched to Intermountain Divisional Headquarters to assist in the call center, where their eyes were opened to the scope of The Salvation Army, Graciani said May 8. Comments included: "This one lady phoned in and we could not help her, but I was able to pray with her; that was so different, I would have never done that before."  "I never knew that The Salvation Army was so big…do you know how much we do…it's crazy!"
Seven ARCs in Southern California are traveling to camps in the California South Division to help on work projects and get out in the fresh air for some recreational time during COVID-19. The Honolulu ARC has started taking groups of 6 men to Camp Homelani for service and recreation. Three thrift stores in the California South division have been transformed into emergency shelters with the help of the ARC, including the La Palma location in Anaheim. 
Throughout the command, Graciani noted the ARC is more actively engaging with the corps. Through ARC Connect, a program created by administrators of the Oakland ARC, beneficiaries can connect their loved ones to a local corps for help. Fresno ARC has provided one Spanish-speaking employee to the corps to assist the Spanish-speaking population coming to the Army for help. In addition, the ARC is sending beneficiaries to clean the Clovis Corps so it is ready to receive more product, and some of the men will be painting the chapel for the corps. San Bernardino has been sending beneficiaries and an employee three days a week to the Ontario Corps to help with food boxes. These men are replacing senior citizen volunteers who need to stay home during this time.
The Las Vegas ARC has been working with the Army's Clark County Command Social Services and EDS by providing a truck and driver to pick up and deliver donations on the Army's Owens Campus. The Santa Monica ARC sent several beneficiaries to Lancaster to help The Salvation Army set up a temporary shelter there. The Canoga Park ARC helped with a large donation of toilet paper in the Porter Ranch area, picking it up and delivering it to Bell warehouse.
"They're also extremely grateful to be helpful to the community during these difficult times," Graciani said.
Alaska Division
In Alaska, Divisional Commander Major John Brackenbury shared May 26 the state is almost a full month away from its last reported COVID-19-related death, and that the mandated quarantine has helped to keep the virus at bay. Since March 19, the Army in Alaska has provided over 100,000  meals and food, $63,000 in assistance, 11,000 nights of lodging and distributed 22,000 items.
Brackenbury said all corps in the division were open for in-person worship May 25, with those who are able posting online services as well. The division's thrift stores have been opening, with several more reopenings on the horizon, and customers are appreciative.
On May 15, the Alaska Division held its food drive in partnership with the Church of Jesus Christ of Latter Day Saints (LDS). "It went so well that we are thinking about doing something like this in the fall," Brackenbury said. 
The Army is continuing its normal relief services in Alaska. In Anchorage, The Salvation Army opened its 24-hour childcare shelter. The Army has received $95,000 from the Alaska Can Do Fund with United Way & Rasmuson for housing, utilities and childcare. The Army has also received a contract with Anchorage to provide three meals a day, meal support, virtual case management with homeless individuals who are under quarantine in the City of Anchorage.
In Haines, Royal Caribbean Cruise Line is hoping to gain access back to the area after having been absent for 15 years. The cruise line's representatives asked what charity they could donate funds to, and the city recommended The Salvation Army. The Army will receive $15,000 for its food bank in Haines.
In Hoonah, the Army is coordinating with the Village of Hoonah and Icy Strait Point for a community-wide food box collection. The city is collecting dollars and food in Juneau and shipping using Uhauls and ferry fishing boats to bring food into the community. As the state of Alaska continues to reopen, The Salvation Army's COVID-19 response is far from over. 
"The whole virus itself may be waning…but the economic effects will be with us for years to come,"Brackenbury said April 27. "Oil has been decimated in the state. Tourism, the cruise industry is not expected to come at all, and fishing…Those three things are the largest producers of economic development in the state and they're talking tens of billions of dollars in lost revenue."
California South Division 
In the California South Division, Divisional Commander Lt. Colonel John Chamness shared news of a "big week ahead" May 26 with the division's second mass food distribution event in partnership with Latter-day Saints Charities at Dodger Stadium May 28. 
The Army was approached by the Los Angeles Homeless Services Authority (LAHSA) to open another hotel shelter in Studio City with Project Room Key that would be 190 beds, and the 400-bed Grand Hotel shelter downtown has reached 80 percent capacity. In Anaheim, FEMA delivered 28 trailers to be used for isolation housing. Between March 20-21, the Army opened four new shelters for people experiencing homelessness in partnership with the city of Los Angeles. The division also helped establish an 800-bed field hospital in Lancaster, California.
The division has convened a committee for post-COVID-19 work that has examined aspects of The Salvation Army, including Christmas kettles, program focuses, fundraising and ways to streamline processes. A new mandate from the state allows corps in California to open for worship with modified guidelines and the division is working on online tools for corps to continue online worship.
The division has experienced a 75 percent increase in request for meals and food boxes, said Divisional Commander Lt. Colonel John Chamness April 13. The Army is utilizing the Bell warehouse as an essential distribution point for all corps in the division along with Adult Rehabilitation Center (ARC) trucks to organize shipments. For several weeks, cadets from the College for Officer Training (CFOT) assisted the division's EDS efforts. 
Cascade Division
Cascade Divisional Commander Major Nancy Dihle reported May 26 that the Operation Share Hope food distribution continues three days a week, serving about 1,400 families a week. The Army opened a food-drop off area for those who want to donate food at the distribution events. The food is held for three days to ensure it is free from the virus before it is distributed to those in need. While the Army is not able to offer prayer during the food distributions, it has opened an area for drive-up prayer at the exit of the food distribution event. Dihle said 60-70 people ask for prayer every time. 
Because of the division's visibility as a food distributor during COVID-19, it has been invited to participate in the Farmers to Families food box program.Through the Oregon Food Bank, the Army has been able to partner with four U.S. Department of Agriculture (USDA) businesses that have committed to provide food boxes until the end of December.
Corps across the division are in various stages of reopening for in-person worship, with the state of Idaho opening first. All corps thrift stores have opened and have had phenomenal openings, Dihle said. In Albany, the Army is holding Trucker's Table, serving free meals to truckers. On May 10, the division partnered with the Oregon Chinese American community for Chinese American Food of Love Day, which coincided with Mother's Day. Area organizations fundraised to provide 400 meals from local Chinese restaurants for those in five Army residential facilities. 
Across the Cascade Division, the need for food boxes is up by 40 percent. A new partnership with CISCO has provided fresh food and a local distillery provided hand sanitizer. The Salem Kroc Center is providing free childcare to children of frontline workers through a partnership with AT&T. 
The West Women's Shelter has seen an increase in need. The Rose Center for Seniors hired two local caterers to alternate weeks providing meals to its senior participants. The Newport (Oregon) corps is operating as a medical staging area for the coast. Two facilities are being used by local authorities—one for recuperative care and another to house people experiencing homelessness. 
College for Officer Training (CFOT) at Crestmont
College for Officer Training at Crestmont (CFOT) Principal Major Nigel Cross reported May 22 that excitement is growing among the Messengers of the Kingdom cadets. In three weeks, the quarter will be finished and two days later they will be commissioned as officers and receive their first appointments. There is some disappointment that they won't be able to have the normal farewell celebrations as a community. Overall, though, they are happy, and many of the components for Commissioning are complete. Meanwhile, the Messengers of Grace are continuing their online classes. They will have their finals after Commissioning before heading out to their summer assignments. 
The Messengers of the Kingdom have had their final review, as well as seminars on transitioning to the field. U-Haul pods have arrived and they will begin packing. The summer assignment chapel, led by Lt. Colonel Steve Smith, took place May 4. 
In April, Cadets served in the field with EDS in the California South Division. After transitioning back to online coursework, they are assisting the Community Relations Department with the donor phone calls. While Cadets were on EDS deployment in the California South Division, they served from San Luis Obispo to San Diego including Torrance, L.A. Red Shield, Orange County and Santa Monica. The cadets primarily sorted, packed and distributed food to the community, particularly to seniors. A revolving cadet team worked at Bell Shelter, moving equipment and sorting supplies; three cadets are licensed forklift operators. During this time Crestmont officers helped to provide emotional and spiritual care to seniors through the Silver Line. 
With the closing of schools in Rancho Palos Verdes, California, the CFOT Family Care Center was caring for cadets' children full time. Children in family care also assisted in deployment by decorating prayer cards for food boxes for seniors. During spring break, the children on campus participated in a virtual vacation Bible school. Crestmont students and staff participated in a Spiritual Sunday via Microsoft Teams. 
Del Oro Division
Del Oro Divisional Commander Major Ivan Wild shared May 26 about a pair of food box distribution events for families in Oakland and Tracy, California, through a partnership with the Toyota-Lexus Minority Owners Dealership Association as a part of the group's national Day of Service May 22. The Reno, Nevada, thrift store reopened, and sales were up 18 percent across three stores. DHQ and Sacramento officers performed drive-by graduations for five officer kids. 
All of the division's corps remain fully active in response to COVID-19. In Carson City and Reno, Nevada, the Army is sharing a $250,000 contract from United Way for rental, mortgage or utility assistance for those who have lost jobs or fallen on hard times. Raley's grocery store has allowed the Army to park trucks for donations to the Adult Rehabilitation Centers (ARC) at five stores in Sacramento. 
The division held a pair of food box distribution events in partnership with the LDS, in Reno, Nevada, and Oakland, California, May 15-16, serving 1,000 families in each location. The division has renewed  its partnership with the Sacramento Kings and received $20,000 for food distribution.   
In Chico, California, 70 nursing students from Butte College were at risk of not completing clinical study because of COVID-19-related closures until they volunteered with the Army for six weeks. Students performed welfare checks on clients and helped with food distribution. 
The Army partnered with Days for Girls volunteers to sew 1,500 masks for use in the division. In Santa Rosa, California, The Salvation Army asked chef Guy Fieri if he would help provide a convection oven at the corps. Fieri had it delivered and installed the same day. The Army also received a letter from a Nevada tribal nation, thanking the Army in Carson City for help with food delivery to its elders on the reservation. 
Women from the Chico Adult Rehabilitation Program (ARP) spent a few respite days at Camp Del Oro. A pair of corps in Placer County serve three meals a day for those who are in isolation at hotels across that county. The Salvation Army, in partnership with Paul Biondi, Alameda County Social Services Agency-Procurement Division, delivered nearly 900 pairs of men's and women's underwear and 1,496 pairs of socks on April 2 for distribution to housing insecure individuals who are currently staying at local hotels, arranged by Alameda County. 
The Oakland (California) Chinatown Corps participated in #GetMePPE Bay Area and started the "Let's Fight COVID-19 Together Project." As a result, they were able to collect 10,000 medical-grade masks from individuals, churches, community clubs and other non-profits and donate them to area first responders. On April 1, they delivered 2,560 KN95 masks to Kaiser Hospital in Oakland.  
Golden State Division
Golden State Divisional Commander Major Darren Norton also spoke of California's new guidelines for reopening worship services, adding that he is hoping a few of the corps in the division might be able to reopen under the guidelines. The division's annual Flower Power fundraiser will go virtual this year. 
The Army continues to operate its meal service program to the homeless encampments every day, and the city has started opening up safe sleeping sites and has reached out to the Army to feed those in safe sleeping sites. The first site has 100 people, so now in addition to the other meals being distributed to encampments, the Army is providing three meals a day for those in safe sleeping sites.
"I think this EDS will turn into a regular part of our metro social services in this city," Norton said. "This is not going away." 
The division held its food distribution event with the LDS at the San Francisco power plant May 16, which allowed six lanes for drive-through. In all, 3,000 food boxes were provided. Divisional President of Women's Ministries Major Mary Norton conducted a survey with officers from the division. In it, she asked where they are in terms of readiness to reopen and stress levels. She was encouraged by the results. The survey was inspired, in part, by the Pathway of Hope's Hope Scale. The division is working on guidelines for reopening, and has made camp available to officers for furlough.
At the Modesto Red Shield, the Army is operating in the kitchen, making 300 meals a day for those experiencing homeless who are sheltering in hotels. Bay Area counties continue to shelter in place. In San Francisco, the Army has increased its meal program for those experiencing homelessness in encampments to 784 meals to 51 encampments. Divisional Secretary for San Francisco and Divisional Men's Ministries Coordinator Captain Matthew Madsen is coordinating the city-funded program along with an employee coordinator. 
In partnership with the City of San Francisco, the Army is providing to-go lunches for kids who live in the Tenderloin neighborhood. The San Francisco Kroc Center is offering childcare to frontline healthcare and emergency response workers.  
Camp Redwood Glen is providing 5,000 meals a day to three neighboring corps, including the Salinas (California) Corps, where, in addition to serving meals to seniors at a mobile home park, the corps is distributing 500 meals a day at homeless encampments. In Merced (California), a shelter that is not Army-run has asked the Army to come in and serve a meal each day. In Modesto County, California, authorities asked the Army to provide 550 meals a day from the Modesto Red Shield Center for those experiencing homelessness as the county houses them in local hotels. In Bakersfield, California, the Army is caring for 53 local aged-out foster youth, ages 18–21.  
Hawaiian and Pacific Islands Division
In Hawaii, Divisional Commander Major Jeff Martin said the state is progressing through its reopening phases and churches are now able to reopen. Most corps in the division are waiting for May 31 to resume in-person worship services. 
Retail stores on Oahu began to reopen the weekend of May 15. In Guam, the thrift store reopened the week of May 18. Throughout the division, corps officers are actively working on their reopening plans for their thrift stores, and the Kroc Center has submitted its reopening report for opening in phases in keeping with the proclamations being made by the governor. Camp Homelani continues to provide work projects and recreation opportunities for ARC men. 
The Army is delivering meals to those in isolation with positive COVID-19 results who are being housed in hotels—6,000 meals will be distributed in Oahu starting May 18. A refrigerated truck was donated to help with delivery.
The division's major food event took place May 9. Martin said the Army served 700 cars in Oahu, resulting in about 7,000 meals, each box including See's candy, a rose, 10 pounds of meat and fresh produce. Across the state, the division served 12,000 meals including every island except for Kauai, where the Army provided meals to those experiencing homelessness. 
The Army started a new homeless food outreach service in West Oahu, providing hygiene kits, masks and meals to go to about 100 people. The city and county have approached the Army for rent and utilities assistance through Aloha United Way. Throughout the state, 285,000 workers are unemployed, and the Army is seeing more requests for services. It is working with Aloha United Way to provide rent and utility services. 
Throughout the Hawaiian and Pacific Islands Division, the Army is operating food banks and providing hot meals on Guam and Saipan as well as Hawaii. The Kroc Center is cooking about 16,000 meals a week that they freeze so the meals go out ready to be microwaved when they arrive at homes. Many of the meals go to seniors.
The division also partnered with the U.S. Coast Guard to combat food insecurity during the crisis, distributing food to those in need, including families who couldn't apply for SNAP because of their immigration status. The Revolution Hawaii team—based at Camp Homelani—is providing outreach and assistance to nearby corps. On Guam, where resources are scarce, Family Service Center staff are making their own hand sanitizers from aloe vera and alcohol. In Guam and Saipan, the Army is providing meals for nurses who are self-isolating in between shifts at the hospital. The Republic of Marshall Islands has no reported cases of COVID-19.
Intermountain Division
Intermountain Divisional Commander Major Mike Dickinson said the division has received 50,000 N95 masks from Americare that they will give to first responders. General Joseph L. Lengyel, a member of the Joint Chiefs of Staff, visited the Crossroads Shelter in Denver. He was impressed with what The Salvation Army is doing.
The division held a drive-through food distribution event May 14 at the Aurora (Colorado) Town Center mall, where volunteers gave out 3,000 food boxes in partnership with LDS Charities.  Throughout the division, corps are beginning to reopen. Montana corps began in-person Sunday worship May 17, with Wyoming and Utah beginning May 24. Colorado will begin at the end of May.
In Jefferson County, the Army opened a medical quarantine shelter, with 75 rooms available, for individuals experiencing homelessness and their families specifically affected by COVID-19; they must be referred by medical professionals. In Denver, the Army opened a new shelter for 250 men in less than 24 hours. 
Leaders in Commerce City, Colorado, asked the Army to be its lead agency on rent assistance, starting with a $250,000 contract. The state of Colorado has issued a $500,000 contract to The Salvation Army for rent assistance, Dickinson said April 8. The Aurora Corps is working with the local police department's crisis team to get food to those with mental health issues, as identified by the crisis team. In Billings, Montana, the Army also opened a shelter—the first time Billings has provided sheltering. 
"The Salvation Army cares deeply for our clients, staff, volunteers and community," Dickinson said. "While we're here all year long, we are stepping up our efforts during this time of uncertainty to be there for those who need us."
The division's call center operates with six newly hired case managers to field rent and utility assistance requests, refer callers to local corps for food assistance and take information for those seeking Emotional and Spiritual Care (ESC), which 10 retired officers have been recruited to provide by phone. The division's call center is receiving about 1,100 calls looking for the assistance a day—a number it would usually receive in a month. Dickinson said many of the calls have been requests for rent assistance as Colorado has yet to implement any moratoriums on evictions, and that the Army has a little over $1 million in pending requests as of April 8.
Northwest Division
In the Northwest Division, divisional staff spent the week of May 18 doing food distributions so local corps wouldn't have to do it all themselves, Lt. Colonel Lisa Dickinson said. They completed 10 distributions in various locations as of May 27. 
Corps in the Northwest Division opened for worship in Montana, and the Coeur d'Alene (Idaho) Kroc Center reopened its center for activities May 16. Some thrift stores have reopened, and results have been excellent, with sales 70 percent higher than average. The division hopes to reopen the remaining stores in early June.
The division received a $55,000 grant from The Department of Agriculture which helped purchase 30,000 airline meals that will go to the shelters. The division received donations of 25,000 pounds of potatoes, 25,000 pounds of onions and a large quantity of eggs. 
The division continues to expand its shelter programs in a number of cities, as local governments continue to reach out to The Salvation Army for emergency assistance. In one case, Divisional Commander Lt. Colonel Bill Dickinson said the city of Bellevue, Washington, is giving The Salvation Army $90,000 to assist with direct emergency services for people.
Idaho Governor Brad Little visited the Coeur d'Alene Kroc Center April 24, and he helped serve meals. The Coeur d'Alene (Idaho) Kroc Center received a commendation from the Kootenai County Office of Emergency Management for the way it responded to COVID-19. 
The NFL Draft-A-Thon raised about $7 million across the U.S. The Northwest Division will benefit from this thanks to the Seattle Seahawks. Further, a new Spanish-language hotline developed by an advisory board member has had so many calls, they've brought in more staff to man it. 
Southwest Division
The Southwest Division coordinated with the Veterans Health Administration to deliver food boxes, gift cards and hygiene kits to 120 veterans at Victory Place residence. Southwest Divisional Commander Lt. Colonel Kelly Pontsler spoke May 22 about the Navajo Nation, which straddles Arizona and New Mexico and continues to be a hotbed for the coronavirus. The Salvation Army wants to be helpful. "The challenge is finding the way in," Pontsler said. The Army will send out 900 (four-ounce) bottles of hand sanitizer, one pallet of baby wipes and two pallets of hygiene kits (split between two groups). The Salt River Indian Reservation requested food assistance; the Army is providing 900 food boxes weekly.
The division held a drive-through food distribution in Las Vegas May 15, giving out 2,000 boxes from City Hall. About 100 volunteers from the LDS helped with the distribution. The Salvation Army in Arizona has been selected in the USDA coronavirus farm assistance program to receive up to 1,500 units of fresh items each week.
The division is formulating plans for corps and store reopenings. Three Family Stores were reopened May 15 in Phoenix. Recently, the Southwest Division has experienced excessive heat and temperatures continue to run about 15 degrees above normal. "We're hoping it will get back down to the 90s this weekend and let us catch our breath a bit," Divisional Commander Lt. Colonel Kelly Pontsler said May 8.
Las Vegas continues to be the division's most dynamic and turbulent location for the virus, and most of the Army's buildings are full there. There, the Army is overseeing four shelters: an emergency shelter, hostel, LGBTQ safety dorm and shelter for quarantined individuals.  
Senator Martha McSally's 15 Days of Giving campaign brought in approximately $200,000 for the Army. Her team made four different site visits, offering help and encouragement to staff members. The Salvation Army will honor her for her efforts. The Las Cruces (New Mexico) Corps was allocated $5,500 out of the $100 million gift toward feeding America from Jeff Bezos, CEO of Amazon.
HOW TO HELP:
If you'd like to make a monetary donation, please click here to make a gift.
Text 'GIVE' to 52000 to make a $10 donation to The Salvation Army. This will automatically add a one-time donation to your next mobile phone bill.
For information about volunteering, please visit volunteer.usawest.org.
To learn more about how to support The Salvation Army's relief efforts, please click here.