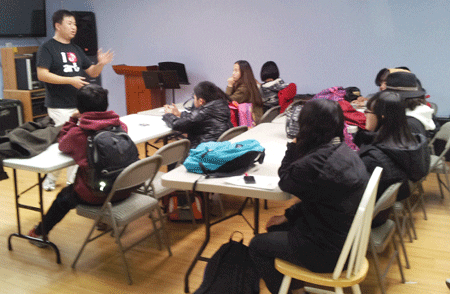 Las Vegas Korean Corps welcomes Korean missionary children
The Salvation Army provides an introduction to American culture and the Army's ministry.
Nineteen children of Korean missionaries living in China visited The Salvation Army Las Vegas Korean Corps in December 2012 for three weeks to practice English and experience American culture.
The Los Angeles Korean Church Pastor Council planned the trip, but turned the field trip over to the Las Vegas Korean Corps when they were unable to house the children. Sun Loper, a member of the Las Vegas Korean Corps, helped arrange the visit.
Corps Officers Lts. Richard and Minhee Lee learned that some of the children prayed for many years to come to the U.S. Following the Jan. 6 worship service, the Lees took the kids to see the Las Vegas strip.
"I loved the clean air, the clean cars, the wide open streets with short buildings and very few pedestrians," said Ha Eun Hwang, one of the children.
Richard Lee took the group to the Lied Social Services Campus in North Las Vegas, the location of the Army's Homeless Day Resource Center, where the children had lunch in the Corner Cafe.
The officers recruited ESL high school teacher Yola Perkins to teach the children English; they studied from 3-6 p.m. on weekdays.
"They are such humble, respectful and joyful kids even though they are young," Minhee Lee said. "We can see in their hearts that they love God, people, and that they care for each other."
The Salvation Army plans to support future visits to the U.S. of the children of Korean missionaries living in China.