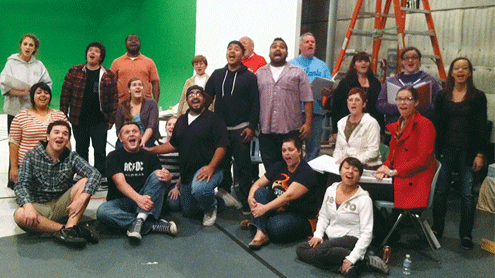 Larsson musical slated for June premiere
Play completes Paul's story from the book of Acts.
Rehearsals are continuing apace for the premiere of "Spirit! II: Empire" at The Gathering in June. With practices every Tuesday, along with one Sunday a month, the 70 cast members have made a huge commitment.
"They're a dedicated, talented bunch," said Karl Larsson, co-director along with Barbara Allen. "We work them hard, but they always seem to deliver."
The 1973 musical, "Spirit!" written by John Gowans and John Larsson, begins the story of what happened to Jesus' followers after his ascent to heaven—the first part of Acts.
This new musical takes up where the original ended, completing Paul's journey as documented in Acts. It opens with a dramatic storm and shipwreck off the coast of Malta, and then jumps back in time to explore how Paul found himself under arrest, traveling to the heart of the empire: Rome.
"Musical theater is a wonderful medium for storytelling; the musical 'Spirit! II' literally brings the book of Acts to life in front of your eyes. Working with the cast week by week is a joy!" Allen said. "The Army is blessed to have so many fine actors and singers. People we have known for years suddenly blossom when given a line to read or a song to sing. There is so much hidden talent."
Kevin Larsson, Southern California divisional music director, composed the music for "Spirit! II," Malcolm Westwood contributed the lyrics, and Karl Larsson wrote the book.
"It's exhilarating to hear the cast breathe life into these songs," said Kevin Larsson. "Even at this stage, without any real musical backing, they feel alive. It's exciting."
Major Darren Norton, chaplain for the production, challenged the cast to read through Acts. "This musical is bringing Scripture to life, and it's exciting to realize that these lines we are saying, these characters we are playing, were real. It adds such new understanding to Scripture."
Norton is convinced the production will have a spiritual impact, not just with the audience, but also with the cast. "We are bathing the musical in prayer, and it can't fail to have an impact on those taking part. Expect to see lives changed," he said.
The cast features Salvationists and friends from around Southern California, ranging in age from 14 to 70-plus.
"Going into this, we were somewhat new to The Salvation Army," said Justus Bradshaw (Pasadena Tabernacle Corps), "but not only have we made friends, we now feel like family."
"Spirit! II: Empire" premieres at The Gathering, with performances on Friday and Saturday afternoon. Make you sure you don't miss out on this historical event.