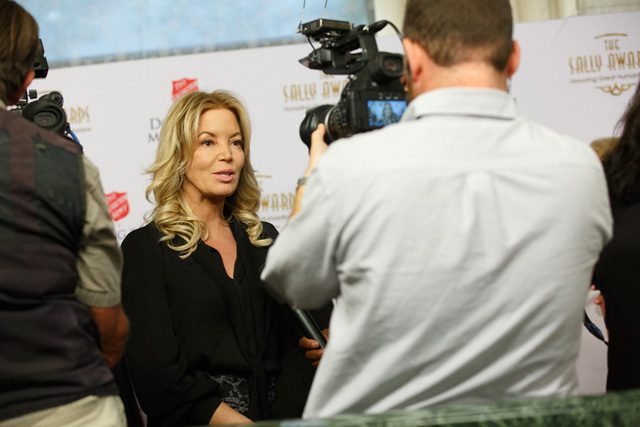 Lakers CEO honored at 2018 Sally Awards
Gala raises $700,000 for Army's programs.
By Hillary Jackson –
Los Angeles Lakers CEO Jeanie Buss is a pioneer in a storied sports franchise. Professionally, she's achieved much, but she's dedicated to more than having a winning team: She's committed to having the Lakers be a force for good.
Buss, along with other humanitarians in Southern California, was honored by The Salvation Army at its 2018 Sally Awards on June 20. More than 500 supporters came together for the awards gala hosted by Turner Classic Movies' Ben Mankiewicz at the Four Seasons Beverly Hills Hotel.
Buss received the 2018 Sally Award, for her and the Lakers' efforts benefitting The Salvation Army's Red Shield Community Center in Pico Union.
Buss took to Twitter on June 21 to express her appreciation for the honor.
"Thank you to my friends at Salvation Army @salvationarmyus for honoring me with your Sally Award. For over 30 years the #Lakers have been your partner in the community. When teammates come together for a common goal that is when things happen – we are great teammates," she tweeted.
The event also honored late federal jurist Judge Harry Pregerson for his help in establishing The Salvation Army's Westwood Transitional Village and Bell Shelter programs.
Pregerson's legacy will be preserved through the new Judge Harry Pregerson Award that will be presented annually at the Sally Awards to recognize and honor an individual, couple or family who embodies both The Salvation Army and Judge Harry Pregerson's mission to mobilize resources in Doing the Most Good.
Producers of the inspirational film "I Can Only Imagine," Cindy Bond and Kevin Downes, were also recognized for creating "art with a spiritual conscience."
While a number of notable attendees were in attendance, Lakers great Magic Johnson and Los Angeles Mayor Eric Garcetti sent well wishes via video.
The Sally Awards began in 1957. The 2018 event raised more than $700,000 for The Salvation Army's programs across the Southland.