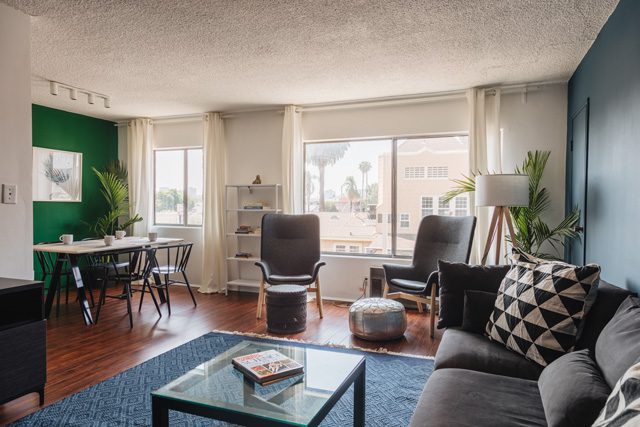 L.A. Sparks redesign project turns apartments into homes
Structured gray tweed sofas, patterned mustard accent pillows and framed succulent prints—things you'd probably expect to find in a West Elm catalog, not a shelter for youth coming out of foster care or escaping street life.
A recent renovation at The Salvation Army's The Way In shelter in Hollywood, California, proves the concepts do not have to be exclusive.
"The building really needed a facelift and some TLC," said Lianna Pollastrini, Director of The Way In, speaking of the Oxford Apartments, a facility two miles away from The Way In's main campus, that houses 16 residents aged 18–21.
Enter: The L.A. Sparks. The WNBA team raised more than $20,000 and recruited six volunteer designers to redecorate the interior of six of the facility's apartment units. The goal? For residents to feel a little more at home.
"For these 16 young people, their apartments were places to live—but not necessarily places to thrive," said Andrea Moiseve of L.A. Sparks Community Relations. "One, our players are extremely passionate about combatting homelessness—and two—advancing the prosperity of former foster youth, and so, for the Los Angeles Sparks organization, the Summer Design House project was a natural fit."
Residents and staff from The Way In agree—the efforts paid off.
"The difference between the units before and after is quite remarkable," Pollastrini said. "I think it's just a really exciting experience for the youth to be able to come into such an inviting space and kind of call it their own temporarily while they're in our program."
Most residents stay for a year, but some up to two, Pollastrini says. The length of a resident's stay depends on a number of factors, but the goal remains the same: to help homeless youth find the path to stability and self-sufficiency.
"Many of the individuals who we serve, this is the only home that they know, and in a way, our programs the only family that they know," Lianna said. "I think it's a big deal to have a place feel comfortable, safe and just really uplifting."
When 21-year-old Jalone moved into the Oxford Apartments, it was before the renovation. Black marks covered the walls and needed to be scrubbed off, and the whole place was reminiscent of a "nasty hotel." Now things are different.
"It doesn't feel like I'm actually like living in a shelter," Jalone said. "It actually feels like I have my own place, my own apartment…. The vibes are way better. It's fun to come home to something nice."
Research by Florida State University Interior Design and Architecture Professor Jill Pable shows the interior design of homeless shelters can either "support or hinder people's ability to assert control over their future."
According to Pable, shelters with sterile corridors and glaring lights send the message "People don't think you deserve a nice place to live." But housing designed with "warm colors, thoughtful lighting and useful signage send the message: 'someone cares.'"
Now a comfortable space with colorful walls welcomes Jalone home from a day at work or an outing with friends.
"We really needed this," Jalone said. "It's just a taste of what we can have…It just gives us motivation to know that we can keep going and we can have nice things. Everything is possible."