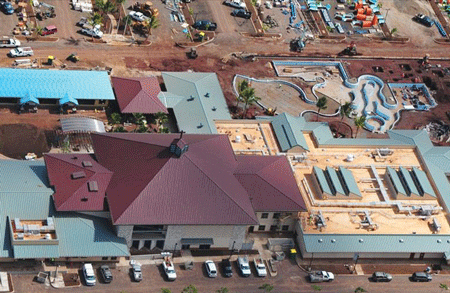 Kroc Center Hawaii to open in January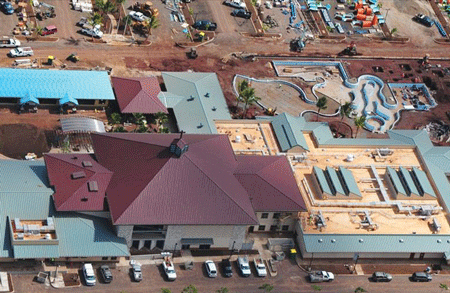 Salvation Army facility is biggest of 17 existing Kroc Centers and the largest community center in Hawaii.
 By Andrew Gomes
Honolulu Star-Advertiser
A monumental attraction is about to open on Oahu.
It's got a pool with twisting tube slides, a lazy river and a hot tub seating 18—but it's not a water park.
It's got classrooms, a gym, a theater and a playing field—but it's not a school.
It's got guest rooms, a banquet hall and food prepared by former Hanohano Room executive chef Ron Amasol—but it's not a hotel.
It's the Kroc Center Hawaii—and though it's described as a community center, the project developed by the Salvation Army in East Kapolei is, by scale and scope, unlike anything in Hawaii.
The $133 million facility covering 15 acres is about a month away from being completed after almost two years of construction.
When it opens in January, residents of Leeward Oahu and beyond will have first-class facilities for educational and recreational activities from music, dance, art and video-editing classes to water polo, rock climbing, kickboxing, basketball, volleyball, weight training, Zumba and yoga.
There's also a preschool, a cafe, a church, birthday party cabanas and a game room.
The center will be open to the public, although there will be a small membership fee for use of the fitness and aquatic centers. Monthly memberships range from $39 for a child to $109 for a family of six or more. Daily memberships are $14, and several hundred scholarships are available for people who can't afford the full monthly membership.
The idea—and primary funding—for the complex was provided by the late Joan Kroc, widow of McDonald's founder Ray Kroc, who wanted to improve the lives of children and adults in areas where a lack of community facilities limits achievement.
"She didn't want there to be kids who couldn't achieve their highest potential—say, to go to the Olympics—because they had the dream but didn't have the pool, or they had the dream but they didn't have the gym," said Bram Begonia, Kroc Center Hawaii's operations director.
Joan Kroc established the first Kroc Center in San Diego in 2002. When she died in 2003 she bequeathed $1.6 billion to the Salvation Army to build about 50 centers around the country.
Community and government leaders on Oahu submitted a bid for a Kroc Center and received the largest grant of any applicant—$80 million—in 2006. The grant was increased later to $110 million. Local fundraising efforts added $23 million more to finance the project, including its $69 million construction cost and a $59 million operating endowment.
A site was selected to primarily benefit Leeward Oahu residents, though public use is expected to be statewide.
The Salvation Army bought the land from the state. The site is surrounded by Department of Hawaiian Home Lands property leased for farming now but slated for homestead development. The first station of the city's planned rail line will also be adjacent to the property.
Lots of community input and analysis helped determine what features the center should have, according to Salvation Army Administrator Major Phil Lum.
The facility ended up being 200,000 square feet, making it the biggest of 17 existing Kroc Centers and the largest community center in Hawaii.
"We don't really have any other facility like this," Lum said.
About 150 employees are being hired, including teachers, lifeguards, cooks and fitness instructors. Only about 25 jobs have been filled so far, and recruiting efforts are ongoing at kroccenterhawaii.org.
Project development director Laura Kay Rand anticipates that perhaps 2,000 people a day might use the center, though demand is hard to forecast.
Rand said the two Kroc Centers that opened most recently signed up many more members than expected. In Salem, Ore., 7,000 memberships were sold during a grand-opening weekend. In Coeur d'Alene, Idaho, where the population is a little bigger than that of Kailua, about 14,000 Kroc Center memberships were sold.
"We don't know what to expect," Rand said.
About 200 memberships for the Hawaii center have been pre-sold, largely to family members of people involved in the project. Rand said she expects interest will build as word spreads about the January opening—especially after the two-story tube slides are installed, because they will be visible from afar.
Membership provides access to the fitness and aquatic centers, including group exercise classes, as well as the gymnasium and equipment.
The Salvation Army is providing scholarships through the Kroc endowment. Rand said she anticipates about 25 percent of members will have partial or full scholarships.
The endowment will also be used to cover about a third of annual operating expenses. Two-thirds will be covered by membership, class and facility rental fees.
Facility rentals are available to members and nonmembers, and include birthday cabanas at the pool, meeting rooms, the gym and the theater.
Classes likewise are available to members and nonmembers, and will include art classes operated in partnership with the Honolulu Academy of Arts.
Begonia, the operations director, said that even though there are fees, the rates and scholarships will make it affordable for families and available to everyone in the community. "The opportunities the children will be exposed to now is absolutely amazing," he said.
Community support
Some big and wealthy Hawaii foundations and companies have their names associated with parts of Kroc Center Hawaii as contributors to a capital campaign that raised $23 million to help build and operate the project.
But many parts of the community center campus—from the aquatics center to a bike rack—can still be named after donors big and small.
So far, the biggest donor to have part of the center named in their honor is the Jack and Marie Lord Trust, which contributed $4 million and is the namesake of the center's worship and performing arts building.
Other facilities named for donors include a First Hawaiian Bank dormitory and McDonald's of Hawaii tot lot and child watch room. Some donors have preferred not to accept naming rights, though all donations of $1,000 or more will be recognized on a donor wall in the center's courtyard.
For a list of naming opportunities still available and a list of donors to date, read the online version at newfrontierpublications.org.
Reprinted with permission