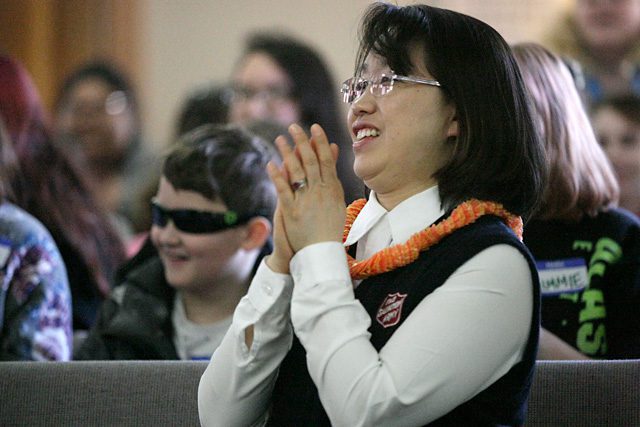 Korean-Americans build community at The Salvation Army in Alaska
In Anchorage, The Salvation Army adapts its Korean Corps to better reflect the community outside its doors.
By Hillary Jackson –
A gathering with worship, meditation and individual prayer may sound like the happenings of a Sunday morning service, but for the Korean Corps in Anchorage, Alaska, it's every day at 6 a.m.
During this time, congregants come together to pray for the corps, The Salvation Army and other needs. While not everyone comes every day, people are always there. This is something Captain Amy Park attributes to the faith of the Korean people.
"Koreans have really good spiritual power," Park said. "They are really spiritual people."
Park and her husband, Eric, have served as Corps Officers for four years at the Anchorage Korean Corps, which has found its role in not only serving the city's Korean Americans and recent immigrants, but the greater Anchorage community as well. According to the most recent census data, 1.2 percent of Anchorage's population is Korean—a higher share than all but three U.S. cities. For perspective, Koreans represent 0.5 percent of the U.S. population.
With an established Korean-American population and a steady influx of people coming to their community, the Korean Corps in Anchorage tries to ease the transition for immigrants.
"We always have newcomers to Alaska. We help them as much as we can, so whenever they need any kind of help, we provide it," Park said. "Some people cannot speak English and we help them to translate documents…Sometimes we [go] to their doctor's appointment to translate it. It's our normal lifestyle here."
The corps' Home League Secretary Joy Choi was a starting member of the corps 20 years ago. Through her position, she serves women in the corps and in the community. Sometimes, that includes helping newcomers.
"We always help the Korean immigrants adjust to their new lives here in America," Choi said. "We help them get their Social Security card, driver's license, find the house/apartment, or to get a job. We provide any kind of translation service…We also provide transportation service."
For Choi, it all comes back to the spirit of William Booth and the Salvation Army motto "Heart to God, Hand to Man."
"I feel great joy when I see a family or individual who's been helped by our corps adjust to their life well in [Anchorage]," Choi said. "If they come to the corps regularly and [to] see their growing faith, it is always the best thing."
While the corps' service is presented largely in Korean, parts of the service are in English and Chinese.
One congregant, who speaks Korean, Chinese and English, started inviting others who spoke those languages to the corps. As a result, the Anchorage Korean Corps better reflects the community outside of its doors.
"We have different backgrounds and different cultures, but…we are trying to just do it together in our same faith in Christ, so we try to be together all the time," Park said.
While the main service is multilingual, the youth program is based in English. Park said the youth program, in addition to the corps' other programs, has served as an easy way for new families to get plugged into the corps and over the years, the youth group has grown.
"When we came here, we started a singing company. But through the singing company program, the youth group's involvement is much better," Park said. "Whenever we practice for the singing, before we start, we share the word of God first and pray. I encourage them to grow their faithful, spiritual part first."
The singing group is a part of the corps' music program, which extends into the community as a part of its Community Care Ministries. The group regularly sings at church, in nursing homes and in various locations for the homeless. They also participate ENCORE in the USA Western Territory, representing the Alaska Division.
Choi's children participated in the singing company until they aged out. She's seen firsthand how the group benefits the corps, the community and its members.
"The singing company group kids contribute their musical talent during our Sunday worship all the time. They play some instruments to participate as a praise worship team….I am so proud of our kids," Choi said. "I noticed that we have gained new youth members through our singing company ministry, and all of their faith is growing together with this group, they are not only singing but also learning what God wants us to live."
Reaching out to the Anchorage community means reaching out to Christians and non-Christians alike. According to a 2012 Pew Research Center survey, nearly 70 percent of Korean-Americans nationwide identify as Christian. Of that number, 40 percent consists of immigrants who were not Christians at the time of their arrival in the U.S. Seeing a need, The Salvation Army began specific Korean Corps to reach out and build a more vibrant and inclusive church movement.
More than three decades after these language-specific worship communities were established in the Western Territory, there are now nine Korean corps serving communities in Alaska, Arizona, California and Nevada.
While the Western Territory's Korean Corps are reaching Korean-Americans and their communities, Park says there should be more of them.
"We need to start more Korean Corps in the United States because, for example…if [someone from Anchorage moves] to a new place and they want to find a Salvation Army Korean Corps there, sometimes, or usually, there is no Korean Corps there, so they cannot belong to The Salvation Army anymore," Park said. "We'd really like to start new Salvation Army corps everywhere. That's my hope."
She's seen firsthand how Anchorage's Korean-American community has taken to The Salvation Army and believes in its mission.
"We pray for The Salvation Army every morning in our prayer meeting. We are always thinking about The Salvation Army," Park said. "In our congregation, they really like to wear the uniform and feel proud to be a Salvationist. They love The Salvation Army ministry."
This pride and love coupled with the rich spirituality of her congregants makes Park optimistic for The Salvation Army's growth among Korean-Americans.
"We really need to let our Korean community know what The Salvation Army is doing and more people will get involved with our ministry," Park said.
---
This is the fourth in a series of articles by New Frontier Chronicle showcasing different expressions of ministry across The Salvation Army USA Western Territory that point up the importance of reaching out to other ethnic and linguistic groups so as to build a more vibrant and inclusive Church.