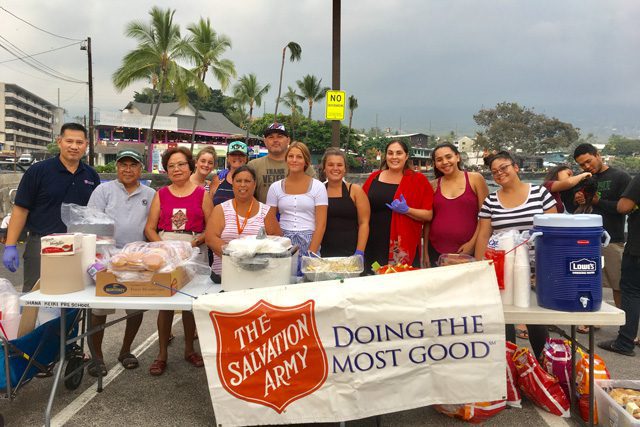 Kona's pier ministry serves hundreds each week
Weekly outreach offers "church time" along with a warm meal.
By Karen Gleason –
Every Thursday at 6 p.m., people at Hawaii's Kailua-Kona pier can enjoy a free meal and fellowship, courtesy of The Salvation Army Kona Corps. The weekly outreach has become a staple in the community, and something of a celebration.
The pier ministry began almost two years ago, in July 2017, about a week after Corps Officers Lts. Jose (Bob) and Raghel Santiago arrived in Kona, fresh from commissioning for their first appointment.
The Santiagos saw a need, and decided to go to the people, instead of setting up a program that would require people to come to them.
"We noticed that there were people eating out of public trash cans, and it broke our hearts," Raghel Santiago said. "Lt. Bob and I fasted and prayed to see if this was something God was showing us to consider as a ministry to start in Kona."
Other churches and organizations helped with food provision, but a need existed for regular meal events.
To meet the physical need they had witnessed, the Santiagos began the weekly ministry, serving a warm meal that they prepare at the corps and transport to the pier. Since they wanted to offer spiritual nourishment as well, they invited people to church, but not many showed up. They asked people if they needed a ride, but that wasn't the problem.
"Many of the hungry people on Thursday nights were too afraid to come to church because they thought they would be judged on Sundays," said Kenneth Santiago, Kona Corps Youth Pastor.
There were practical considerations, too.
"We realized that many of our homeless friends did not want to go to church because they did not feel comfortable being in a church building…they have to take their belongings with them for fear of their stuff being stolen," Raghel Santiago said.
Many individuals who came for the weekly meal had no knowledge of God.
"This bothered me—knowing that people were living in darkness, and they were the ones who needed Jesus more than others," Lt. Bob Santiago said.
The Santiago family—the Lieutenants and their two sons, Kenneth and Kristopher—came together to consider the situation.
"What inspired us to start doing open-air ministry—or "church time" as the people at the pier call it—was the desire for people to know more about this radiant light in a dark place that can only come from our Lord Jesus," Raghel Santiago said.
After the family prayed, Kenneth Santiago spoke: "If we can't get them to go to church, let us bring church to them!"
They started the open-air ministry, where they distributed free Bibles. Attendance—and attention—steadily increased, with people reminding each other when it was time for church.
"The best joy my heart gets is when I see people holding hands together, praying, shouting praise to God, and those tender tears rolling down somebody's cheek because they have been touched by the Holy Spirit," Raghel Santiago said.
For the people who regularly attend, the pier ministry is about more than the meal.
"Hope—and people who care," said Randy Miyasato, a guest at the pier ministry. "They are considerate. Rain or shine, they're here. It's something to look forward to when you are in need because at night it's lonely out here."
Once a professional waiter in Hawaii's luxury restaurants, Miyasato suffered an accident, the fallout from which eventually left him homeless.
"Unforeseen events can happen to anyone—something that can change your life—and it's good to have The Salvation Army to find you," he said. "They say, 'Hey, you want something to eat?'" They even offer to tourists. They don't discriminate. Anyone can go to them, you know?"
The Santiagos do most of the cooking, although people do help out, especially during the holidays. When the ministry began, the couple and their sons, plus a few corps members, would take the food to the pier and serve their guests. As the ministry grew, they prayed for help. Soon they had around 25 faithful volunteers—advisory board members, friends from other churches, and even tourists. At first, they served about 30 people; now, they serve over 200.
"It's amazing how faithful God is," Bob Santiago said.
Consistency is important to the Santiagos. At one point a tropical storm was approaching the Big Island, and residents were advised to remain indoors. Raghel Santiago said they were torn—they wanted to be good citizens but they couldn't let the people down.
"They depend on us to be there; no matter the weather, they'll be there." she said.
The Santiagos prayed for protection, and headed to the pier. The storm passed them by, and the meal and church time took place as usual.
The Salvation Army also provides self-care kits—"love packets"—that contain basics like toothbrush and toothpaste, soap, shampoo and comb. Twice a month, the Army distributes towels and bedding, courtesy of a donor who owns two local resorts.
Before dinner is served, church time takes place, when one of the Santiagos presents a devotion with a Scripture reading. During a testimony time, people can share how God was good and faithful to them during the week. After dinner, individuals come to the altar for prayer.  
"There are hurting people that need the Lord," Raghel Santiago said. "Praise God, since the ministry started, 108 people have accepted Christ and the gift of salvation."
Denise Kina, who has attended the pier ministry from the beginning, spoke to West Hawaii Today about what makes it special.
"I come for the fellowship with everybody," she said. "The Salvation Army has really stepped up and done a whole lot of outreach and contributing to the community. It's awesome."
The Salvation Army is also working to reduce area homelessness—connecting people to resources and helping them find jobs. To date, three people have been referred to The Salvation Army Adult Rehabilitation Center in Honolulu, and five have secured jobs and are no longer homeless.
The pier ministry has impacted not only the area's homeless population but the entire community, and especially the Santiagos.
"The people that we serve call us their friends," Raghel Santiago said. "One would assume that they come to us for assistance, but sometimes we are the ones they bless, with their many thanks just for being there and praying with them; for the little gifts such as pretty homemade leis they give me to show their appreciation—and the mere hugs they give us are a blessing to us."
Kenneth Santiago agreed.
"Now they look forward to the message before every meal," he said. "I'm blessed to be able to do this ministry and I'm blessed that everyone is getting fed spiritually and not only physically."