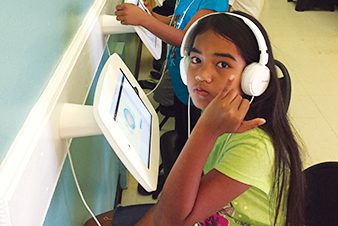 Kona Corps teaches music with iPads
New School of Music and Technology opens.
The Salvation Army Kona Corps combined its youth troops and creative ministries program two months ago to create the Kona School of Music and Technology on the Big Island of Hawaii.
"When we came to Kona, we quickly learned that music was the universal language of the many cultures represented in the Hawaiian and Pacific Islands," said Corps Officer Lt. Michael Stack. "We also learned that many of our youth grew up in a world very different from many of us, pretty well cut off from modern technology."
The local Target store sold the corps 10 iPads at a discounted price for the Kona School of Music and Technology and Tryten donated steel locking kiosks to mount the iPads on the wall.
"We wanted [the iPads] to be in a place everyone would have access to them pretty much anytime…as we don't have a dedicated space to use as a computer lab," Stack said. "Children are music and touch screen natives…this is how they express themselves."
Volunteer music students from local universities help run the program, teaching 35-40 kids about music and various instruments donated by the local Rotary Club. Additionally, tutors and other volunteers teach the children about programs on the iPads, primarily through the Khan Academy application.
"Our Divisional Leaders Majors John and Lani Chamness have encouraged us to equip, encourage, and engage our community and when a community member walks into our building they're encouraged to see right away that we're investing in them. They see iPads and [see] music…being learned and taught," Stack said. "It encourages [them] because music is their language and because technology is our society's medium right now…it equips them for their future [and] it equips them for the tools they'll be working with at school and [work]."
Participants currently range in age from 5-18, but community members have expressed interest in adult programming, including language classes, computer programming and web design.
"The community loves it," Stack said. "The kids, well they just love that it's clear that The Salvation Army hears them and is responding to their generation."