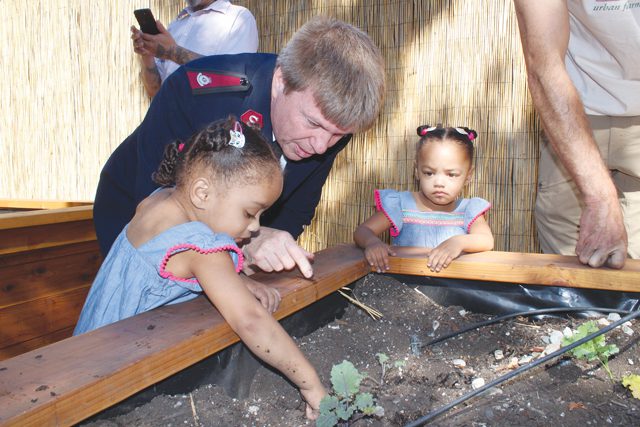 Kings launch "ROOT" at Salvation Army
A new community garden encourages food literacy, healthy eating
This offseason, the Sacramento Kings launched "ROOT," a community garden program that encourages food literacy and healthy eating, hoping to change the way kids, families and adults interact with food that comes from the ground.
The Kings unveiled a new garden at The Salvation Army E. Claire Raley Transitional Living Center. In partnership with Raley's and The Salvation Army, the Kings Foundation designed a unique program aimed to highlight and encourage regional garden planning, food literacy and nutritional food options. The garden was built with help from The Northern California Construction Training (NCCT) while Soil Born Farms aided in planting and providing the necessary knowledge and education on gardening and composting.
"We're honored to be in the position to dive into the community to encourage others and make a true impact," said Kings Foundation Executive Director Scott Moak. "With the help from a few of our amazing partners, we're able to introduce, educate and demonstrate nutritional food options and healthy living to community members."
Last season, the first-ever Kings garden was installed at the Sleep Train Arena Practice Facility for the team's Sports Performance Chef Brett Eisen to prepare healthy meals for players using the freshest ingredients. During NBA Fit Week, the Kings Foundation held a special nutrition and cooking class for 20 local youth, hosted by the team's sports performance chef and a Kaiser Permanente registered dietician, to share the importance of food literacy.
Since being recognized as a Spirit of Caring Honoree by The Salvation Army in 2015, Kings President Chris Granger and the Kings Foundation committed to building this garden to provide residents at the center with the opportunity to plant, grow and nurture it as well as offer on-site farming and cooking classes.
"We're thankful to be recognized as an organization that takes great joy and pride in serving our community," said Granger. "We remain committed to doing good in and around the Sacramento region as we continue to find unique opportunities to better our city and make Sacramento proud."