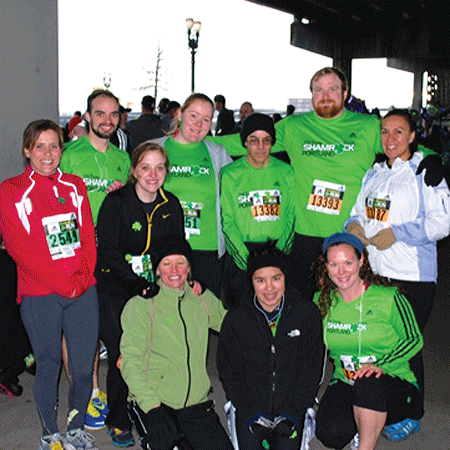 Kickin' Krocs
By Barbara Rivoli
The Kickin' Krocs, a group of runners at The Salvation Army Ray and Joan Kroc Community Center in Salem, Ore., formed after Sarah Anderson, fitness attendant, recommended running as an activity for a mentally challenged member, hoping to build his self-esteem.
Anderson and Barbara Rivoli, fitness and gym coordinator, helped Orlando Ageuro, 53, sign up to run a local 5k (3.1 miles) with them. Ageuro ran the route in less than 27 minutes.
Tom Ferrin, associate director of development for The Salvation Army's Marion and Polk counties, put a photo of the trio and a brief summary of Ageuro's accomplishment in the monthly newsletter. The excited response of members wanting to participate initiated the Kickin' Krocs.
Most recently, 28 runners from the group participated in the Portland Shamrock Run, which included over 30,000 participants. Anderson was one of them.
"I started the team because I've always enjoyed running, but I didn't have anyone to run 5ks with," she said. "I thought getting our Kroc Center community involved would help people in the same boat as me. I'm so happy with how successful it has been and I'm looking forward to future runs, including the relay for life in July."