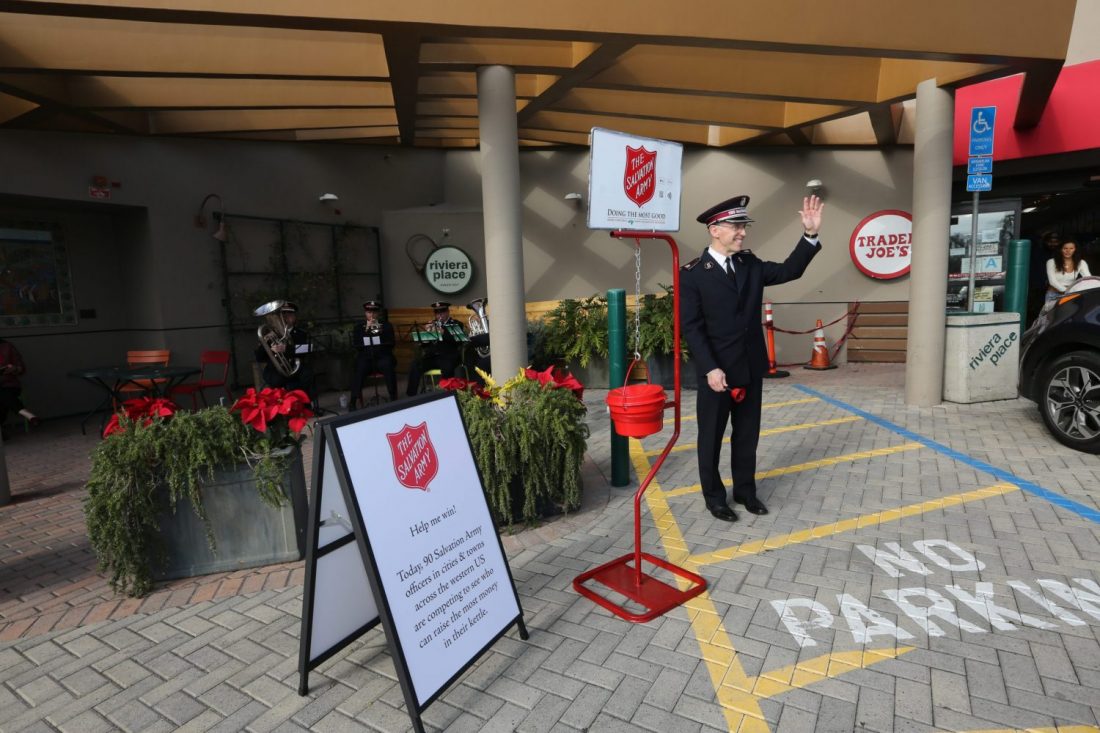 Kettle challenge raises nearly $80k across the West
Territorial Commander Commissioner Kenneth G. Hodder challenged Salvation Army officers across the Western Territory to a kettle challenge Dec. 13 from 12-4 p.m. In total, some 95 officers joined in to see who could raise the most money in their kettle—collectively raising $79,776.65.
The grand-prize winner is Captain Angela Morrow, Corps Officer of the Centennial Corps in Littleton, Colorado, who raised $7,344.93.
The top 5 fundraisers are:
Captain Angela Morrow: $7,344.93 (Intermountain)

Major Ken Perine: $5,651.89 (Northwest)

Lt. Fredy Miranda: $5,017.82 (CalSouth)

Captain Cassandra Amezquita: $4,678.67 (CalSouth)

Captain Caleb Fankhauser: $3,641.90 (Intermountain)
Hodder raised a total of $1,272.36.
Divisional winners:
California South: $25,242.06

Intermountain: $22,822,81

Northwest: $13,937.24
Other notables from the challenge: 
Evalena Russell of the Cortez, Colorado, Service Extension Unit raised $1,470.68, plus a $1 winning lottery ticket and a 1936 Indian Head nickel from a community where there are only 26,000 people in the county.

Major Steve Ball stood at the kettle during the first Red Kettle Campaign in the Republic of the Marshall Islands, a country with 35 percent unemployment and an average annual income of working adults around $1,100.  

Major Pam Markham got her dentist and hygienist out to put money in the kettle.

Majors Evadne and Turnie Wright in Ridgecrest, California, raised approximately .33 per person in their community in one kettle.

Major Ivan Wild raised money from employees at the Del Oro Division's Christmas theme party while dressed as Captain Stubing from the Love Boat. 

The top fundraising divisional leaders are Lt. Colonels Bill and Lisa Dickinson, who raised $1,284.33 and $794, respectively. 

Golden State and California South are tied for having the most divisional officers ringing at 17 officers each.