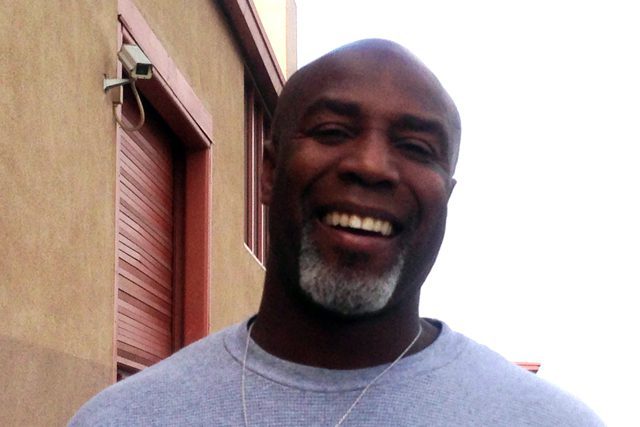 Ex-offender emerges at Bell Shelter
The Salvation Army's correctional services helps man dream, find success
By Lizeth Beltran –
It's 6:28 a.m., and residents quickly shuffle to their seats at The Salvation Army Bell Shelter for the morning prayer meeting.
Standing over six-feet tall, Kent Buckner towers above most of the shelter's residents. For the past three months, he has led morning prayer here and feels right at home.
Before that, his closest thing to home was Men's Central Jail in Los Angeles. He was released in December 2013 after serving his tenth sentence for drug use. A California native, Buckner, 47, has now lived at the Bell Shelter for the past 15 months. He has reached some of the milestones he hoped to accomplish.
For one, Buckner officially became a soldier at the Bell Lighthouse Corps on August 10, 2014. "Before I was clean, I noticed that on my own, I couldn't accomplish very much in the state that I was in," Buckner said. "Seeing what The Salvation Army does, I knew the opportunities would be a good fit for me. Everything is already in place to perform whatever duties are asked of me."
Buckner said The Salvation Army has helped provide him with a spiritual foundation. Since his release he has completed courses at Hope International University and is currently attending school for truck driving.
"For years I was very shy about what other people thought about me," he said. "Hope International made me more of a God pleaser than a people pleaser. It gave me a lot of insight in what life is all about. The service portion of being a Christian; first and foremost, being selfless."
Envoy Roy Snapp-Kolas, director of urban ministry for The Salvation Army's Southern California Division, said Buckner has come a long way. "He's stepped a bit more out of his comfort zone," Snapp-Kolas said. "He was reticent at first; he's not a very boisterous person. He's quiet, but…he's connected to the core of the Bell Shelter."
Snapp-Kolas and Buckner first met during Buckner's time at the Men's Central Jail. Snapp-Kolas is part of an interdenominational ministry called Malachi Dads that helps lead those incarcerated toward a new life.
 "We began looking at opportunities in that he may be the best of service in," Snapp-Kolas said. "One of the areas that he was interested in that he liked was our distribution on Skid Row," Snapp-Kolas said.
Bell Shelter distributes 30-40 sandwiches each day and holds a monthly distribution where residents of Bell Shelter, like Buckner, can distribute food, clothing and other necessities to those on Skid Row.
Buckner said working with those experiencing homelessness is something he's been passionate about for a long time. His love of public service is rooted in a foundation in the political sphere.
"For some years I worked with the Democratic Party, doing work with voter registration," he said. "I was the director of the program. I worked on the 'Get Out and Vote' campaign in the early 90s."
He has also dabbled in social work with individuals facing severe behavior disorders.
Recently, Buckner even reconnected with a family member he once thought he'd never see again.
"I've connected with my mother," he said. "She's been an awesome support here the last 13 months. Every weekend I spend with my mother. It's been nice to reconnect since I haven't lived in Los Angeles for 18 years. As a middle-aged adult, to say I'm listening to the advice of my mom, sometimes I don't agree with it, but I have to take into account that she has my best interest in mind."
Yet, change remains his biggest challenge. "Before, transition was just an ugly word to me, because I felt like I'm an adult, I need to be able to stand on my own. But the reality is that what I've learned, what I've learned through the studies of The Salvation Army, and Hope International, is that transition is good.
"It's opened up other areas of my life," he said. "Christianity has become a foundation for me."