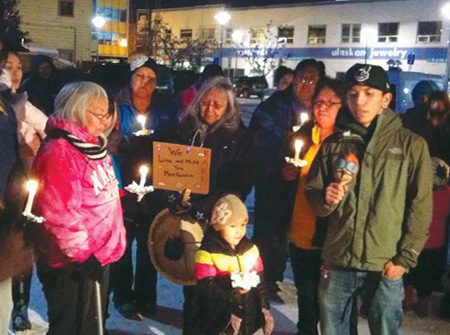 Kake calls on The Salvation Army
Army led vigils throughout Alaska for slain teen.
By Jenni Ragland
"Things like this don't happen in Kake."
Ripples of shock, disbelief and grief spread through the entire state of Alaska following the Feb. 5 murder of 13-year-old Mackenzie Howard in the small town of Kake.
The community was already mourning the recent promotion to Glory of Tlingit elder and Salvationist, Clarence Jackson.
While the Army's spiritual ministry might often go unnoticed outside the doors of its corps, The Salvation Army has a unique ministry and responsibility, particularly in Southeast Alaska where officers frequently serve as pastors for the entire community.
Envoy Donna Bagley, in charge of the Army's ministry in Kake, along with divisional leaders Majors George and Jeanne Baker—in town for Jackson's services—responded to the call for help about 11:30 p.m. They spent most of the night ministering to the needs of those overcome by grief and fear.
"The loss of this young girl on the heels of losing an elder is unimaginable, and it's only through the grace of God that we were there and that the Army was able to respond," George Baker said
Plans quickly developed for a candlelight vigil in Kake. Within hours, vigils were scheduled in communities around Alaska, as information spread through social media. The Salvation Army supported and led vigils, prayer meetings and gatherings in nearly every community it serves, from Ketchikan to Fairbanks.
"Many of our kids in Sitka played basketball with Mackenzie and spent summers with her at home in Kake, so this hit very close to home for them," said Major Evadne Wright, who helped organize the vigil at the corps there. In Anchorage, many of the Kheex' Kwaan family from Kake attended the vigil where Major Nila Fankhauser led a time of prayer and the Army provided hot coffee and cocoa.
"The Army's participation in the statewide vigils and ongoing support in light of these difficult circumstances may never be known this side of heaven," Baker said. "But this is a vivid reminder of the significance of our ministry in bringing hope and healing to those devastated by extreme loss and despair."