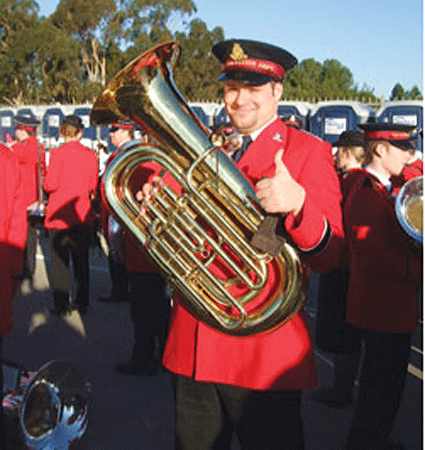 'Just Imagine…' over 90 years of marching
The Salvation Army marks its 92nd year of marching in the Tournament of Roses Parade.
The Salvation Army has marched in the Tournament of Roses Parade in Pasadena, Calif., every year since 1920, making 2012 its 92nd consecutive year—the longest of any participating band. This year's parade, themed "Just Imagine…," took place Jan. 2 instead of Jan. 1, the tradition when the 1st falls on a Sunday.
Joining Salvationists from Southern California along the 5.5-mile parade route were 48 young people from across North America, including Canada. Every U.S. territory was represented. This year's special guest was the Household Troops Band from the U.K., directed by Bandmaster Carl Saunders from the Cardiff Canton Corps in Wales.
"The Salvation Army's participation in the Rose Parade is a way to witness to the world through our music," said tuba player Jonathan Bagshaw (Heritage Park Temple, Winnipeg, Canada), "making a stand for Jesus in the midst of everything else happening along the parade route."
In fact, the band played the march, "Stand Up For Jesus," which won the Southern California Division's international march competition held last year.
Leading the band for the 11th year was Bandmaster Kevin Larsson, Southern California divisional music director.