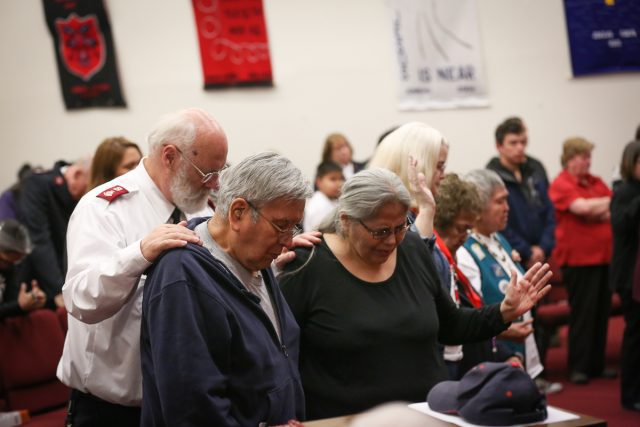 Juneau hosts The Salvation Army Alaska Congress
By Lessa Peter –
The Salvation Army held its annual Alaska Congress March 29-31 in Juneau. Each year, Salvationists and friends gather to glorify God, celebrate Alaskan culture and welcome spring. Themed "Fully Alive," the event celebrated fellowship that is fully alive in Christ.
A pre-Congress singspiration meeting at the Juneau Corps featured a solo praise performance by 20-year-old Keilani Friday. She sang the worship song, "Paradigm" by All Together Separate, with a guitar solo.
"I think it's nice to do something that moves you and can possibly move others," Friday said. "It's nice to share it with people, the love that I have for that song, because God gave it to me."
At the welcome praise meeting, Alaska Divisional Commander Major John Brackenbury encouraged everyone to share God's love.
"God created you specifically to do his work and do his will in your communities," he said. "There are a countless number of lives we come in contact with each and every day…We have opportunities as Salvationists to preach Jesus, to help the hurting, to offer hope and grace and love to a hurting world."
Congress events included a morning holiness praise meeting, Encore competition, women's and men's rallies, youth activities, Sunday school and evening praise meetings. The last day, a March of Witness to the Alaska State Capitol Building was held to pray for Alaska state Governor Mike Dunleavy, the Alaska Congress and the state and people of Alaska. The daily praise meetings were broadcast live on the Alaska Division's Facebook page for others to join the celebration.
"It was such a blessing to be a part of the Alaska Congress again, and to declare that we can be fully alive in Christ," Brackenbury said. "The Holy Spirit's presence was felt in our worship, in our fellowship, and also in our witness to each other and to the residents of Juneau. We look forward to what God has in store for the officers, soldiers and friends of The Salvation Army in the Southeast and the Alaska Division."
Next year, Alaska Congress will be held in Ketchikan, Alaska, where Corps Officers Lts. Sam and Leah Fowler will host the annual gathering.