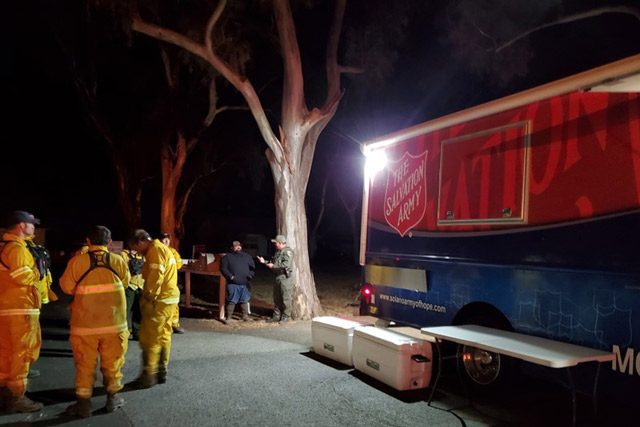 California fires: How The Salvation Army is helping
Fire crews are working around the clock at both ends of California, as historic winds have fueled an explosion of wildfires across the state. The Salvation Army is serving first responders and impacted residents in the affected areas. 
California Gov. Gavin Newsom declared a statewide emergency, citing "unprecedented" conditions.
Northern California 
About 100,000 Northern California residents remain under evacuation orders for the Kincade Fire in Sonoma County, as of Oct. 29. Thousands more have been put on notice to evacuate, as winds are expected to pick up the evening of Oct. 29. 
At its height, nearly 200,000 residents were evacuated after high winds spread the fire that started northeast of Geyersville, California, early Oct. 24.
Pacific Gas & Electric has shut off power for nearly 3 million people in an effort to prevent new fires in its service areas. According to the LA Times, this is the first time in California history that more than 2 million people have gone five days without electrical power because of the intentional safety policy of a utility.
The Kincade Fire had already burned over 115 square miles—roughly the size of Sacramento—as of Tuesday, and is just 15 percent contained. The fire has destroyed 124 structures, and damaged more than 20 others. 
Many residents in the region are just two years removed from the Tubbs Fire—one of the most destructive blazes in state history—which ravaged Sonoma, Napa and Lake counties and killed 22 people. In total, it wiped out over 5,000 properties and caused more than $1.2 billion in damage.
The Salvation Army is expanding its response to the Kincade Fire—serving three meals a day at five sites. Tuesday night, the Napa Valley College shelter will close so school can reopen.
Corps from Redding, Santa Rosa, San Rafael, Auburn, Roseville, and Napa—including the Napa Valley Culinary Training Academy graduates—and volunteers will serve meals to thousands of evacuees.
As of Sunday night, The Salvation Army is also responding to the Grizzly Island Fire, south of Fairfield.  
Southern California 
In Southern California, fire crews are battling both the Getty Fire and the Tick Fire.
The Getty Fire broke out shortly after 1:30 a.m. Monday morning along the 405 Freeway near the Getty Center in Los Angeles. It quickly charred more than 78 square miles, giving some residents only 15 minutes to evacuate their homes.
Officials say at least five homes have been destroyed in the blaze, and that number is expected to climb. L.A. Mayor Eric Garcetti warned residents under mandatory evacuation orders: "Get out when we say get out."
As a result, three mandatory evacuation centers have opened in West L.A., Westwood and the San Fernando Valley. Salvation Army Emergency Disaster Services is on standby.
The Tick Fire near Santa Clarita, California, was estimated at 70 percent containment by Sunday evening, and evacuation orders have been lifted. At its peak, nearly 50,000 residents were forced to evacuate.
Fire crews across the state are hoping for calmer conditions as they work to establish containment lines.