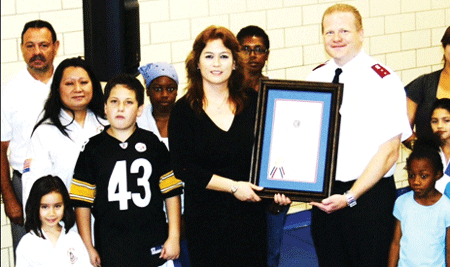 It's 'Karen Herdman Day' in Denver
City honors Red Shield's karate master with her own day.
Denver Mayor Michael Hancock recently presented a proclamation of "Karen Herdman Day" during the Red Shield Warriors' karate promotion, with various masters flying in to test and help promote Red Shield students.
Herdman, center director and martial arts instructor of The Salvation Army Red Shield Community Center in Denver, started a martial arts program in Denver 12 years ago through The Salvation Army. It expanded to three additional corps in Denver, with affiliates across the U.S. and Canada, and even in Eastern Europe.
"I grew up as a less fortunate young person from a broken home, and it has been my pleasure to be able to serve the community by teaching something that helped me get focused and learn to respect myself," Herdman said. A 5th degree black belt master of Tang Soo Do, Herdman is also a well-known journalist and columnist for karate magazines, and has taught anti-terrorism tactical maneuvers for the federal government.
The proclamation states that through Master Herdman's compassion for others in unselfishly volunteering to the citizens of Denver for 12 years in the Red Shield Martial Arts program, Denver and the world are much better places.
"This totally got me by surprise." Herdman said. "I was not expecting a lifetime achievement award as such and I am truly humbled."
For more information about The Red Shield Warriors contact the Denver Red Shield at (303) 295-2107.