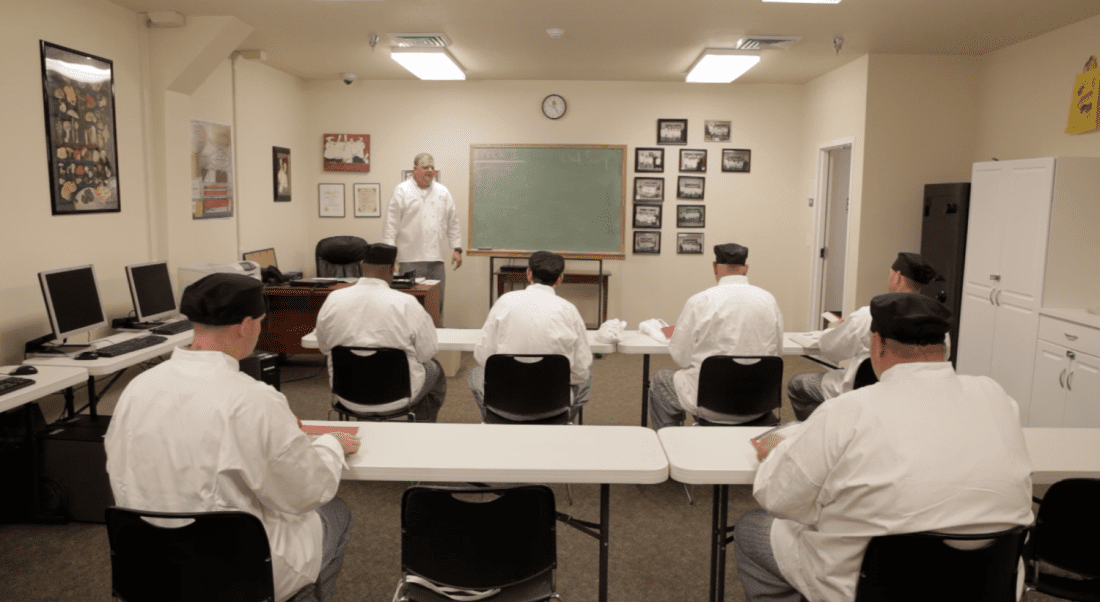 Investigating The Salvation Army and education
Trends that make Army programs a success
By Christin Davis
Education is empowering.
And so, as The Salvation Army works to meet the unique challenges of each community, education is often part of its work—from parenting classes to culinary arts training.
"People cannot not learn," said Dr. Joanne McLain, who studied educational leadership and innovation, is a former administrator at Elbert County Department of Human Services, and now runs a private counseling practice. "No matter what you do, you're learning all the time. The question is what are you learning and how will you apply it?"
At its core, McLain said, learning is sustained activity over time that results in change. For an adult, the essence of learning is no different than a child. You have to first pay attention, be aware, then find applicability.
"You can't tell someone what to learn, but you can influence it," McLain said. "The individual has to connect, has to be engaged emotionally for learning to really stick."
Though goals and methods differ, many of the Army's social services programs are engaged in education.
"In the context of Salvation Army programs, the strengths-based approach is applied to help identify and develop the existing abilities of clients, thus affirming their individual value and integrity, while also instilling new ones," said Christopher Doughty, Western Territory social services research assistant. "Education and the perceived progress made in successfully applying that knowledge leads to increased self-esteem, confidence, motivation, and hope, and these traits, in turn, help people to implement their strengths even more adeptly, transforming a cycle of despair into a pathway of hope."
Here, we've profiled four of these programs to identify their unique features while looking for trends. Collectively, these programs have three ingredients of success: outside support from an advisory board or community partnerships, an unwavering commitment from leaders and participants, and a tangible takeaway that betters an individual's life.
1] Hope Harbor Culinary Arts Program, Lodi, Calif.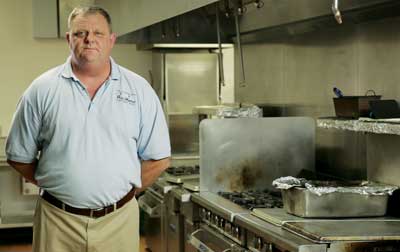 At age 6, Barry Crall was in the kitchen making pancakes.
"They say you're born to be a chef, and I guess I was," he said. Crall trained under three chefs before becoming one in 1985 and has worked in the restaurant business ever since. He cooked at family-owned restaurants and published recipes in Northern California Fine Dining, and now is the chef instructor at The Salvation Army Lodi Hope Harbor Culinary Arts Program.
Eighty-two students have graduated since the program's first session in January 2008, 90 percent of whom are currently working—74 percent are working in the restaurant industry.
The 86-bed Hope Harbor Family Service Center opened in 2005. Crall—a graduate of the Stockton Adult Rehabilitation Center (ARC)—took the lead of the job skills training program after an advisory board member recognized the kitchen's potential.
The Army contracted with a local college chef instructor, who mentored Crall for the first year, and helped to adapt a four-year curriculum into a 16-week course. A residential program, the culinary arts program accepts 10 students per session from area ARCs and other sobriety programs. The $5,000 per student cost is generated by grants, foundations and private funding.
The course includes academics, hands-on training, visits to food service operations and one-on-one mentoring by industry professionals to prepare students to be a prep or line cook. Each student finishes the class with a ServSafe certificate and a portfolio that details the course and includes pictures of his or her work.
"We joke that we want these students to pay taxes, because we want them to be productive members of society," Crall said. "They come out trained as entry-level prep cooks, who could cook a breakfast line with ease."
One graduate—despite a history dotted with prison, narcotics and violence—landed a full-time job as a chef at a local senior citizens social club. He cooks a hot lunch there every day.
Lodi's Wine and Roses has hired nine of Crall's students, and others work at local golf and country clubs. Crall said employers are now approaching him looking for chefs.
He recently interviewed 18 applicants for the February session.
"With a new job skill, they don't need to turn back to what they've known before," Crall said. "That's my ministry."
Watch this video about the culinary arts program by savn.tv, "The Difference Food Can Make." 
2] Baby Haven, Caldwell, Idaho
When Jessica Madrigal, 31, received a flyer for a program that helped with diapers, she signed up.
That was two years ago, when she was pregnant, and she has attended Baby Haven ever since.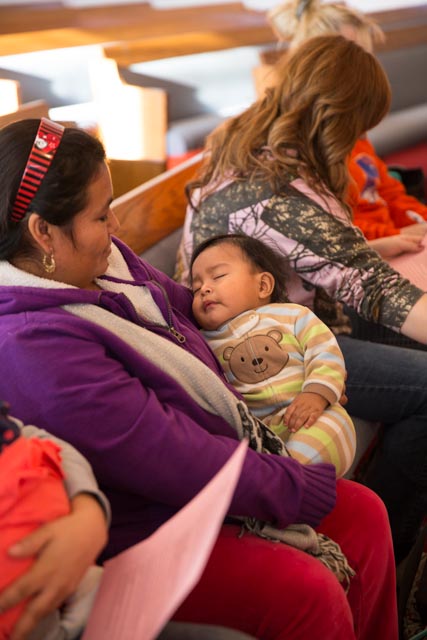 Started by the Caldwell, Idaho, corps in 2006, Baby Haven is an incentive-based two-year educational program focusing on healthy families, starting at pregnancy. In exchange for class attendance, parents receive credit for supplies.
"It helped so much to not have to buy diapers," Madrigal said. She attended classes ranging from nutrition, to baby sign language, emotions with kids, and medical resources, and got her sister involved in the program as well. "They took us in and treated us really well; everybody was so friendly and helpful. It was just comfortable," she said.
In a recent eight-week series, the biweekly classes focused on healthy eating, and a nutritionist visited the families at home.
"I recently had to start dialysis, so learning about foods and grains really helped me out," Madrigal said. "We also cooked in class; we made lasagna with spinach and learned what was good with fibers, and how to control portions and read labels."
Next, classes will cover legal considerations, such as writing a will. Then, a new grant will fund the Strengthening Families Program.
"Education is what drives the economy now a days. Without education it's hard to do anything," said Lt. Kristy Church, Caldwell corps officer and program coordinator. "For us it's not necessarily school education, but informational. House safety, for example. Reminding people that we need to have two exits in case of a fire. It's learning to protect, raise and provide for your family."
The program averaged six classes per month in the past year with 75 active participants.
"I've learned our clients are strong," Church said. "They push through and they find ways to move on and take care of their family. It's cool to see the growth in them during the two years."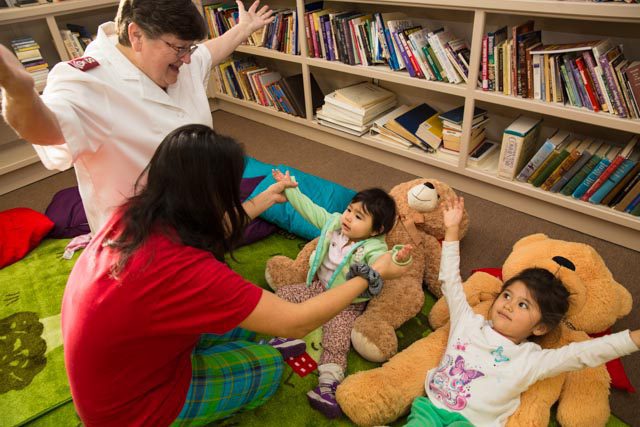 3] Bootstraps Asset Building Education, Denver, Colo.
The Denver Harbor Light six-month residential program helps nearly 600 men each year work through addictions issues and job readiness.
The program includes the Bootstraps Asset Building Education, a four-week curriculum that provides an in-depth look at the role of financial stress on a person's employment stability and ability to maintain sobriety.
"We treat each person with dignity and respect and believe in them, believe that God is able to heal and restore them, and believe that they are valuable as individuals both to us and to society," said Auxiliary Captain Diana Gomes, administrator of the Harbor Light. "I believe we should provide the best tools in regard to relapse prevention education as well as tools necessary to be successful in recovery, such as the Bootstraps class."
Shawn Young, founder of the Financial Health Institute, created the program initially to help young adults improve their personal and professional lives through financial and civic education. The curriculum takes into account a person's environment, and demonstrates how personal values impact financial decisions and health choices. It has been used in more than 30 organizations—from the Kaiser Permanente Foundation to Denver Housing Authority—throughout Colorado.
"It's real information that's valid for any person," said Dr. Joanne McLain, former administrator at Elbert County Department of Human Services who now runs a private counseling practice and consults in developing the Financial Health Institute with Young. "The individual has to connect to it and be emotionally engaged for learning to really stick."
Since the program was implemented at Harbor Light in 2011, over 200 men have participated. In exit surveys, 85 percent said the program is highly effective; 73 percent said they would use the information to make changes in their lives.
"For any type of organization where we try to help clients, we tend to approach it as 'I know what's right, let me teach you what it is.' That's natural, but that's not ideal," McLain said. "People need to feel like they have some choice in what they learn and how it applies to them. They need to approach it from their own place and perspective."
McLain said the sessions begin by asking people what is important to them—goals, values, and how those goals fit with the values. She said she's witnessed participants lose weight or quit smoking as they become more aware of where their money goes.
"It's important for people in difficult places in life to develop a sense of 'yes, I can control something in my life and I can make things better,'" McLain said. "This program is a tool for that. It helps people make choices and gain confidence."
4] HOPE Center, Los Banos, Calif.
With unemployment more than double the national rate in Merced County, Calif., The Salvation Army Los Banos Corps started a HOPE Center—Helping Others Prepare for Employment.
Its resources and weekly workshops—from creating a résumé, to budgeting or building self-esteem—aim to break the cycle of poverty and enable self-sufficiency. It has increased the employability of over 1,500 people since October 2012.
Sandy Lemas, a retired 35-year veteran of Worknet, designed the program to target those in need of basic services before the job search.
"There are a lot of excellent services out there, but they are designed for people who are ready to work; we're providing skills to get people there," Lemas said. "We want people to be able to get jobs, and more importantly, keep a job once they get it."
The HOPE Center is open Monday through Friday from 10 a.m. to 3 p.m. for job seekers to help with job readiness and logistics, including bus passes to get to interviews. A clothes closet provides options for work-appropriate attire.
From 3 to 6 p.m., the resource computer lab is open for students, who can find assistance with homework or simply a place to complete it. Lemas said she discovered many of the students needed flash drives for class requirements, so the HOPE Center has a supply ready.
Gabriela came to the HOPE Center as a teen mom who wanted to work to support her daughter. Lemas said they completed a job search portfolio, and guided her on interviewing and employer expectations.
"When she came back after the McDonald's interview and was hired it was such a great feeling—our first client's job placement," Lemas said. The center then assisted in securing her the required black pants and shoes, completing the online training course and helping her prepare right to work documentation.
HOPE Center has referral relationships with a number of local organizations, including Memorial Hospital, Oasis ReStore, Soroptimist, Habitat for Humanity, and Los Banos Chamber of Commerce.