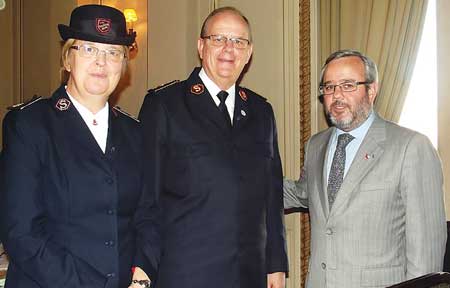 International leaders visit Chile
The Coxes participate in South America West Territorial Congress.
By Eduardo Almendias, Major
International leaders General André Cox and Commissioner Silvia Cox joined Chilean Salvationists at an important time for the Army's development in that country.
Their visit started with a ceremony for the country's first annual "Others" awards. During the event, The Salvation Army announced that the Chilean government granted the Army "foundation" status, allowing it to access public funding to finance social service projects and programs.
"Through this new status we will be able to provide better quality resources and attention to those benefitting from the social work of The Salvation Army," said Fernando Velasco Villegas, development director for the Chile Central Division.
More than 1,600 Salvationists joined in the three-day South America West Territorial Congress in Arica, Chile's northernmost city. Attendees gathered from all over  Ecuador, Perú, Bolivia and Chile.
South America West Territorial Commander Commissioner Jorge Ferreira reaffirmed his challenge for Salvationists to read the Bible in one year.
On the second day of the congress, delegates participated in the Salvationist Fair with exhibitions of handicrafts created by women's ministries members. Folklore dancers performed, attracting people to the festivities. The youth also took part in a "batacuda" street ministry involving a parade of percussion, juggling, dance and music.
The evening "Celebration of Mission" focused on the beginnings of The Salvation Army in the countries that make up the territory.
"It is good to be together and celebrate, but let's not forget that out there, there is a world that needs us," Cox said.
At the end of the celebration, the General called all those present to be "full-time servants."
"The Salvation Army must continue on," he said. "It needs servant soldiers and officers to continue the proclamation of the Word."