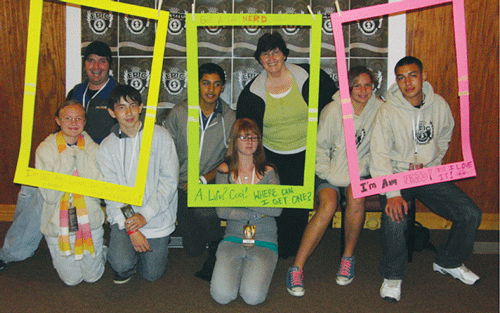 Intermountain Division's 'epic' youth councils Youth vow to purposefully live an epic life with God.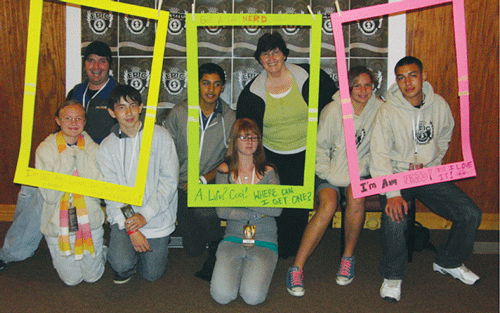 By Amy Stagg
All of The Salvation Army Intermountain Division's 19 corps were represented at the 2011 youth councils, with a total of 112 delegates convening at High Peak Camp in Estes Park, Colo.
At the first "United Session: Epic Journey," participants enjoyed praise and worship music with special guests Abraham Guevara, Erick Rodriguez and Christopher Toy. Games followed, led by representatives from the territorial youth department, along with a testimony from Ryan Rhodes and a message by Captain Raymond Erickson-King, divisional youth secretary.
On Saturday morning, 10 delegates attended the FOF (Future Officers Fellowship) breakfast with guests Majors Tim and Cindy Foley, Majors John and Pamilla Brackenbury and Captains Roy and Paula Wild.  At the "United Session 2: Epic Challenge," Wild challenged the youth with his message. Afterward, delegates rotated through three stations: "Service Project," "Social Media Workshop by Jim Sparks," and "Inflatable Obstacle Course." Free-time activities included an epic triathlon (participants completed the inflatable obstacle course, ran to the lower pond, canoed from one end of the pond and back, then ran back to the flagpole), high ropes course, basketball, volleyball, fishing and a craft (bling-out geeky glasses for the Epic Fall Dinner—nerd style).
At Saturday's "Epic Fall Dinner," everyone dressed in their best nerd/geek outfit.  The top three selected in a contest were Jake Steele (Fort Collins), Ben Wilson (Grand Junction), and Kayla Kissane (Fountain Valley), with a special shout out to Captain Mike Halverson and Captain Nathalie Young—they were definitely nerdy!
Major Tim Foley spoke at Sunday morning's meeting, "United Session: Epic Commitment," which closed a weekend of adventure and one in which youth made decisions to purposefully live an epic life with God.