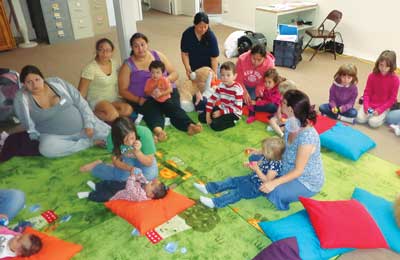 Instrumental outreach for new moms
A new program for mothers and babies has everyone singing.
When Lt. Kristy Church arrived at the Caldwell, Idaho, corps last year, she brought with her a vision for outreach.
She wanted to implement a program for mothers to bond with their young children where they could play instruments and sing along together. They could even make their own homemade instruments and it would be open to anyone who wanted to join.
Despite budgetary constraints and little certainty for a sustainable future, the corps brought this vision to life in June. Unsure of how the community would embrace the program, Church opened the doors and waited for people to fill the room. One by one, clients trickled in with their children and by the start of the class, the space was sprawling with 31 participants.
"This was totally a God moment because with limited resources we were just not sure how people would embrace this addition to our programs," Church said.
Shortly thereafter, the Baby Song program was born to a soundtrack of laughter and homemade shakers. Now, every other Tuesday, parents and their children learn to interact with each other and create educational crafts that they can take home to use until the next meeting.
"[The] Baby Song program is very new, but so far, my 2-year-old daughter loves it," said participant Ashley Fruitchantie. "I think her favorite part is being able to play with the instruments along with the songs."
Many are now attending Baby Song faithfully. The group meets right before the corps' Baby Haven program so that clients can conveniently attend both back-to-back.
Baby Haven is an incentivized program for pregnant women or mothers with children up to 24 months old. Mothers accumulate points for attending  educational classes, doctor visits and other outreach programs. Unlike Baby Song, Baby Haven is specifically for members of the Caldwell Corps.
Church said she is brewing more ideas for Baby Song activities that will involve mothers making sensory projects so they can play with their children at home.
"It is such a blessing to see these children's smiling faces and their excitement as they sing along with music," Church said. "We are looking forward to growing this program and making it an integrated part of our ministry here in Caldwell."