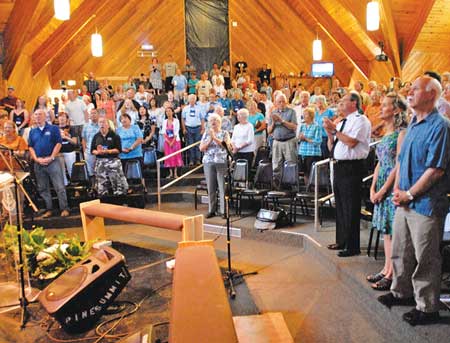 'In his presence'
Delegates deepen their relationship with God at the Western Bible Conference.
Salvationists from throughout the territory gathered July 2-7 for the annual Western Bible Conference (WBC) at The Salvation Army Pine Summit Christian Camp in Big Bear Lake, Calif. This year's theme, "In His Presence," from 1 John 3:18-19, refers to the renewal that comes from spending time with God.
Commissioners James and Carolyn Knaggs led the conference of 507 delegates, which was organized by Major Victoria Shiroma. Lt. Colonels Eddie and Kathy Hobgood, Southern Territory officers serving at International Headquarters, were guest speakers. Eddie Hobgood also gave two dramatic presentations: one depicting the life of The Salvation Army's most colorful American officer, Joe the Turk, and the other a mini-musical about the life of Commissioner Samuel Logan Brengle.
Colonel Janet Munn was guest Bible teacher for the morning sessions. Originally from the Eastern Territory, Munn serves in Australia East as territorial secretary for women's ministries.
"We have come to hear what God has to say to us today," James Knaggs said as he kicked off the conference. Eddie Hobgood then spoke, stating: "To be in his presence should be…the longing of every true believer; the cry of the penitent heart; the goal of every seeking pilgrim; and the hope of every outcast soul. Joy results from spending time in God's presence."
Hobgood said joy is integral to our witness, yet it is so easy to lose. "But, no matter what our circumstances, they do not change the work Christ accomplished on the cross and in the believer's heart," he said.
"The strangest thing about the Bible is…God," Munn said as she introduced her Bible study series, titled "A Home for our Homeless God." Weaving her way through the Bible, she examined God's attempt to make his home among his people. She challenged delegates to ask themselves: What is home for you? How far will you go to become God's home?
Small group discussions followed each Bible study, giving delegates time to reflect and to pray for each other.
"Reflecting on how God chose to lessen himself, becoming human, in order to reach out to me with his love has really challenged me to look at what comforts I would give up to show my love for him," Lt. Kathleen Griffiths said. "I have to stop clinging to those comforts and cling to God, my comforter."
The youth at WBC had their own track, "Repurposed," which examined leaders in the Bible, seeing how God transformed and used them to accomplish great things.
"I have really enjoyed the morning devotions for the teens," said Lanayah from Torrance, Calif., "especially getting to spend time afterwards working with my prayer partner and writing on the encouragement wall."
Big Bear Lake and the camp offered many activities for free time, including prayer ministries, arts and crafts and sports from paintball, to a rock wall and beach ball volleyball. Delegates also enjoyed the 4th of July fireworks over Big Bear Lake.
"[I am] enjoying WBC," Major Donna Jackson said. "Good preaching…excellent Bible study…being with friends and in the presence of God…priceless."
If you missed the experience, plan to attend next year's WBC, scheduled for July 8-14 at Pine Summit Camp.
"I simply don't know how it could have been better," Knaggs said. "Thank you, Lord, for visiting us, empowering us and teaching us. You are amazing."
Links to Hobgood's messages and performances and to Munn's Bible study series are available at onlinecorps.net.
—Compiled by Karen Gleason