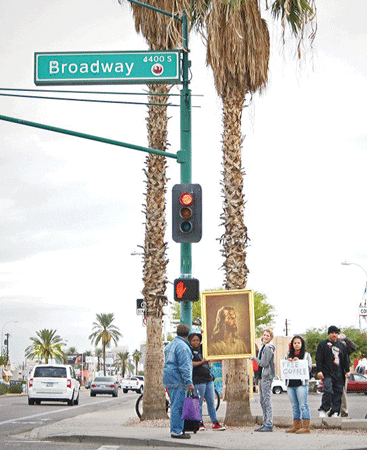 "I'll Fight Day"—2011
Youth from the Phoenix South Mountain Corps participate in The Salvation Army's national day of service.
By Brittany Downs
"What's the catch?" asked a man waiting for the bus when I offered him a free cup of coffee one Saturday morning.
Can you blame him? Sales pitches bombard the public: coupons that read "Free Sandwich" in bold letters, only to continue in fine print, "With the purchase of any sandwich of greater or equal value"; a window advertising a free smart phone, if you sign a two-year contract. There always seems to be a catch.
But on Dec. 3, 2011 there was no catch. I stood on the corner handing out coffee, water and cookies to anyone interested—totally free!
As part of The Salvation Army's national "I'll Fight Day," 30 young people from the Phoenix South Mountain Corps joined other youth across the U.S. who surprised people with God's love through practical acts of kindness in their own community.
Participants randomly selected one of four activities, and then split into groups. One group rang bells at a kettle and returned carts at a local grocery store. Another delivered baked cookies and thank-you notes to community police and fire stations, while another painted over graffiti at a nearby property. The final group handed out Starbucks coffee and cookies at a bus stop. All of this was done in the name of Jesus Christ—to show God's love.
The response was amazing! Although we didn't take any money, people were persistent in trying to give donations. Many asked what the service project was about. Some drivers pulled over to engage in conversations. One family even attended our church the following morning.
As Christians, we often spend time trying to come up with new answers to the same questions: How can we present the gospel effectively? How can we market ourselves? How do we get people interested in Jesus? Yet the simplest answer to these questions is the same as it has always been—love. In John 13:35, Jesus says, "By this everyone will know that you are my disciples, if you love one another" (NRS).