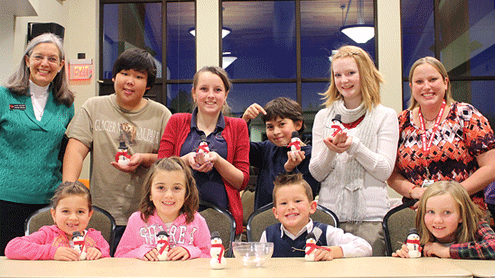 Idaho's ornaments will shine brightly in nation's capital
Coeur d'Alene Kroc Center selected to create ornaments for the 2011 National Christmas Tree display.
 By Erin Johnson
Twenty-four Christmas ornaments—created by youth at the Salvation Army Ray and Joan Kroc Corps Community Center in Coeur d'Alene, Idaho—will be part of the 2011 National Christmas Tree display in Washington, D.C.
The young people learned in November that the National Park Foundation and the Idaho Commission on the Arts had selected them to create the ornaments for the national display—23 of which will be hung from the Idaho state tree in President's Park while the final ornament will adorn the White House Visitor Center Christmas tree.
Major JoAnn Markham, who created the initial designs for the ornaments, said, "The inspiration for the design of the ornaments came from the natural beauty that Idaho experiences in the wintertime, along with the reason for the season—the birth of Jesus."
Local youth spent two hours constructing the ornaments, using paper crafting, clay, textiles and painting to make the designs, which include baby Jesus in a manger and a deer leaping through the forest. "I can't wait to watch the lighting ceremony on TV and know that something I made is there!" said Michelle Newman, age 11.
The Kroc Center is thrilled to be recognized by the state of Idaho, as well as by the U.S., in a manner such as this. "It is such an honor to be selected! The Kroc Center is excited to host this holiday activity for the youth of our community and to represent the State of Idaho at the 2011 National Tree Lighting Ceremony," said Major John Chamness, administrator of The Salvation Army Kroc Center.
Young people representing 55 other U.S. states and territories are also participating.
The 89th National Christmas Tree Lighting Ceremony, hosted by the National Park Service and National Park Foundation, will be broadcast live on Thursday, Dec. 1, 2011, at 5 p.m. EST. Markham will attend the ceremony. Visit www.thenationaltree.org for more information.