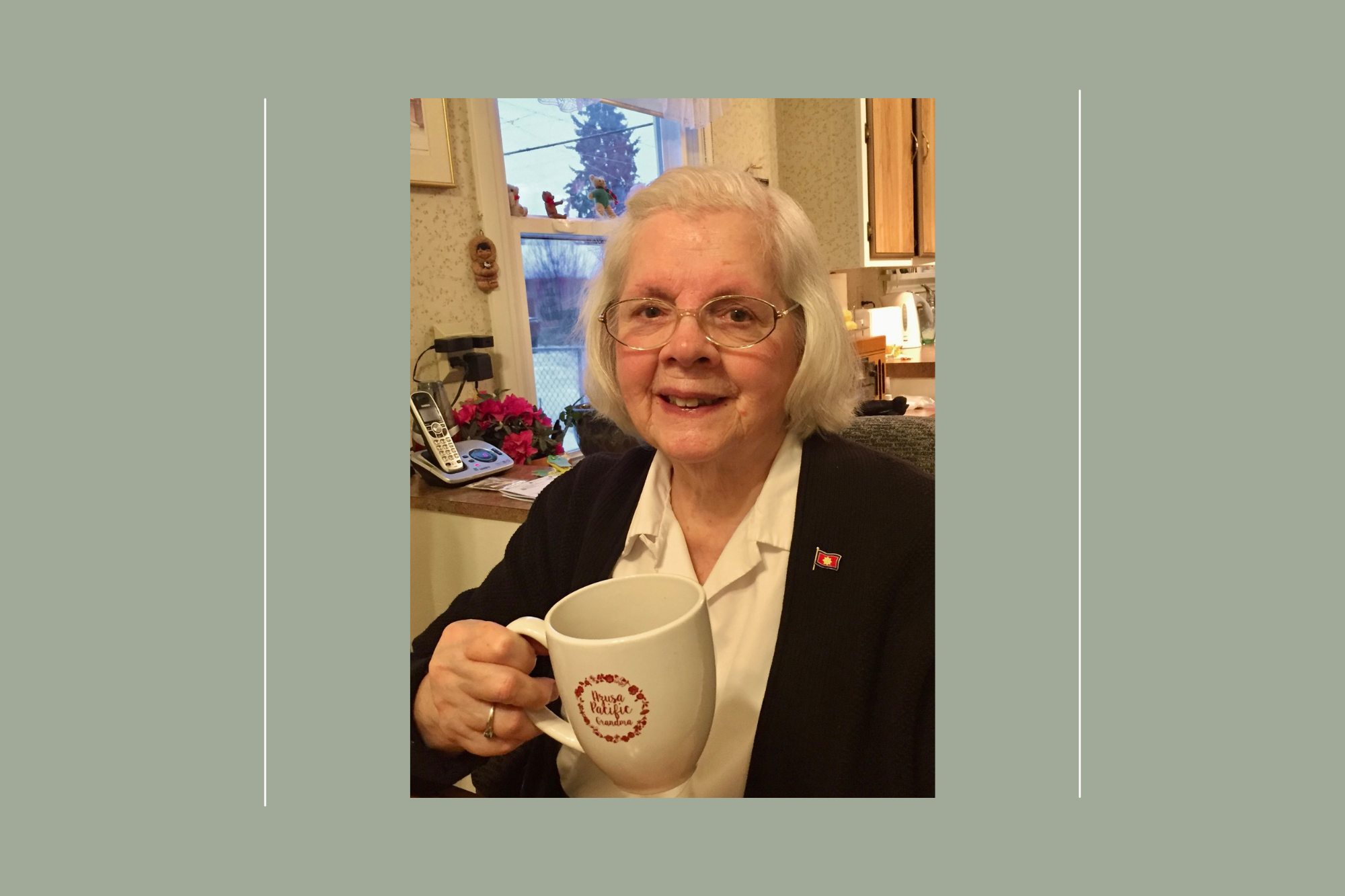 How one 93-year-old Salvation Army soldier is inspiring generations in Kalispell
Q&A with senior soldier and home league member Flora Lind from The Salvation Army Kalispell (Montana) Corps.
At 10 years old, Flora Lind—now 93—started going to The Salvation Army Havre Corps, where she grew up in Montana. Two years later, she accepted Christ into her life and began a lifelong journey of faith and service.
When her family moved to Kalispell, Montana, Lind said she "made sure to find the corps soon after" because with the Army, she felt "at home."
Today, Lind has faithfully served the Kalispell Corps for nearly 80 years, where she currently serves on the corps' council and is the Home League secretary, supporting the corps' women's fellowship.
At Christmastime, Lind is known for her volunteering efforts through the Army's Angel Tree program, the many years she's spent bellringing at kettles and visiting with those in senior residences and hospitals—often bringing cards with Bible verses and gifts.
Throughout her lifetime, Lind has created a legacy of loving the Lord through serving others. A legacy her children and grandchildren continue to this day.
"My mom's example of faith and dedication to the Lord and The Salvation Army instilled in me a very strong commitment to God, " said Dolores Thomas, one of Lind's five children with the late Arnold Lind, promoted to Glory in 2012.
Like Lind, Thomas has been a soldier (Salvationist) since her youth, even going on to work for The Salvation Army in a number of capacities, including at the Door of Hope in San Diego, California.
By raising her own daughter in The Salvation Army Escondido (California) Corps, Thomas continues to follow in her mother's footsteps. "[I] made sure [my daughter] had many of the same experiences as I did," she said.
"Flora is an inspiration to all generations in Kalispell…she's truly a testament to the mission and the ministry of The Salvation Army," said Kalispell Corps Officer Major Julie Feist, mentioning Lind's "rich history" and recollection of every officer (pastor) appointed to serve the Kalispell community.
"She's been faithful and very supportive through every appointment change," Feist added, mentioning how when she and her husband Major Larry Feist were appointed to Kalispell in 2020, Lind "welcomed [them] with open arms."
"She's an encourager," added Feist. Thomas agrees. "My mom always thinks of herself as being shy and fairly quiet, but she is bold for Christ in the way she lives her life in obedience to the Lord and being committed to showing love and kindness to others," she said.
To learn more about the impact of The Salvation Army, Caring Magazine spoke with Flora Lind about Kalispell Corps history, her journey in faith and how the next generation can strengthen their relationships with God.
Caring Magazine (CM): As a soldier, what keeps you returning to The Salvation Army?
Flora Lind (FL): I believe in the mission and doctrines of the Army and I've felt at home there—It's where God met my needs and I dedicated my life to serving him there. I was usually shy, but I felt loved and safe at the corps and that helped bring me out of my shell. My father was an alcoholic and I was the oldest in my family, so I was expected to care for my younger siblings while my mom worked at the grocery store my dad owned. Going to the corps allowed me to be a child and get a break from the stresses of our home life. There were lots of activities I could enjoy as well as worship.
I also taught Sunday School and helped at the corps however I could—I even sold the War Cry in the local bars to help raise money for the Army. All of these experiences gave me deep roots in the Army and strengthened my commitment to serve the Lord.
CM: What does The Salvation Army's mission mean to you?
FL: I think people should know that The Salvation Army is a church and that we do what we do to show the love of God. We do everything based on the Bible, motivated by the love of God. We show God's love by helping people. We do what we do because of our faith in Jesus.
CM: What is your favorite memory at the Kalispell Corps?
FL: I was 21 years old and had just moved back to Kalispell. About one year later, a couple from the corps invited my future husband, Arnie, to move from Iowa to meet me. We married about six months later on Valentine's Day. As a young couple, we developed a special friendship with [former Kalispell Corps Officers] Lloyd and Irma Fitch as they were role models for us and not much older than we were at the time. We had a lot of fun together!
CM: What are your hopes for the future of The Salvation Army Kalispell Corps?
FL: The pandemic has really hit our attendance to an all-time low and I'm praying that it grows back to be a vibrant corps again and recovers from the losses in attendance from shutdowns…I'd like to see a healthy return.
CM: Where does your faith come from and what's your favorite Bible verse?
FL: My faith comes from God through reading the Bible, which is his living Word. My favorite Bible verse is from 1 John 4:7-8: Let us love one another. Love is from God and everyone who loves is born of God and knows God. If someone does not love others, it shows that they don't know God, since God is love.
CM: In what ways have you witnessed the Kalispell Corps transform over the years?
FL: We had many great corps officers over the years (the Morrows, the Hathorns, the Goodwins, the Freemans, the Svensons, the Lums and now the Feists.) Each brought their own special touch to the corps.
When I arrived at the Kalispell Corps, we were in a small building downtown with only a handful of people attending. When the Fitches were corps officers, they bought a white church with a steeple and the congregation grew to about 25 people.
Years later, we had a new building built with an apartment where the corps officers lived. My five kids grew up in this corps building and we had many happy memories there. Every Fall, an auctioneer would come to auction off crafts, quilts, goodies baked by Home League members, and farmer-donated produce during our Harvest Festival.
When Captains Brooks were the corps officers, our Sunday school grew quite a bit as the corps officer said he would sleep on the roof if we got 100 kids to come to Sunday school and we achieved the goal—although I don't think he actually did sleep on the roof!
When the Bowmans were our corps officers, my daughters were in Bible Bowl and won the Territorial Competition.
When we outgrew our building, we purchased our current corps building from the Church of Jesus Christ of Latter-day Saints. The new building has a gymnasium and we started having an annual event around Halloween for the community and also a Spring Fling Thing with Big Band Music and swing dancing.
CM: Do you have any advice for junior soldiers beginning their faith journeys with The Salvation Army?
FL: Memorize your pledge, always keep your junior soldier pledge and don't be influenced by anyone to turn away from the promises you've made to God. Be ever true.
---
Do Good: