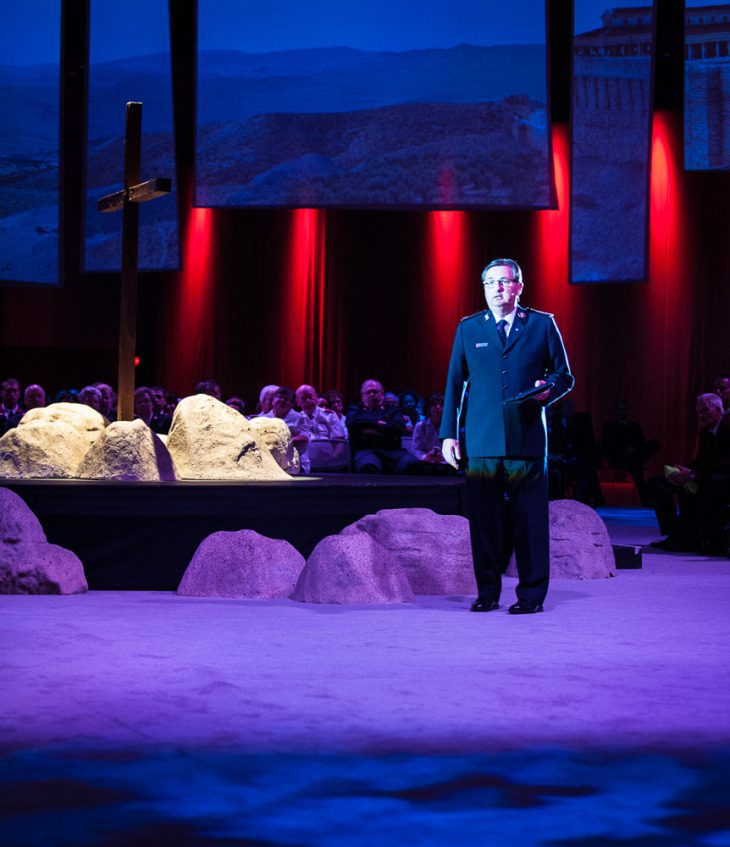 Army tells its stories at "Hall of Faith"
By Jared McKiernan –
Between thrift stores and red kettles most of the general public has some grasp of The Salvation Army's function, but lesser known is the extent of its work and the lives it impacts.
Commissioning weekend's "Hall of Faith" exhibit at the Pasadena (Calif.) Convention Center showcased the full spectrum of Salvation Army ministry, from prison outreach to disaster response.
"Most people tell us that their favorite thing about Commissioning weekend is meeting people," said Lt. Colonel Diane O'Brien, community care ministries secretary. "We decided to give them a place that was a good opportunity to meet and have fun together. It's meant to be chaos, but it's good chaos."
The event, open to anyone, featured opportunities for fellowship and networking along with refreshments and musical entertainment, including Encore participants, cadet ensembles and the Western Territory Staff Band (WTSB). Visitors chatted with exhibitors, drawing inspiration and ministry ideas from personal testimonies.
Major Tom Ford, secretary of corrections in the Western Territory, set up a trivia game with questions about the correctional system in the U.S. as part of the prison ministry exhibit.
"I want to let people to know there is a correctional ministry in The Salvation Army and that if God has called them to it we can certainly provide them with opportunities to minister," Ford said.
Jim Sparks, youth ministries director, pitched a tent for his "Camp Memories" exhibit, in which he invited past campers to share a memory and  camp confession.
"We're here to celebrate camp," Sparks said. "It has had an amazing impact on so many lives. People have had more first encounters with Christ through camp than any other Army ministry."
Captain Joanne Louangamath, candidates assistant secretary, invited those curious about Salvation Army officership to visit the "cadet corner."
"We just wanted to talk about officership," Louangamath said. "We brought in a few cadets to share about their their experiences and just talk about the process to anyone interested."
"Victory reports from Adult Rehabilitation Centers," opened up the floor to graduates of the ARC, who shared testimonies and stories of triumph.
"We get to be part of transformation that affects not just the 'here and now,'" said Major Leanne Trimmer, secretary for business for ARC Command. "We get to be a part of transformation that affects generations."
Other stations included: mission and sponsorship, dancing, an art studio, a photo booth and a book table.
The afternoon concluded with a presentation by the WTSB and carried into "The Pathway of the Cross," which included a theatrical portrayal in the round of the life of Jesus Christ, followed by a message from Territorial Commander Commissioner James Knaggs. He closed the night, imploring those in attendance to visit the cross set up in the center. "To be able to fully embrace the resurrection of Jesus Christ," he said, "you first have to come to the cross."
[gss columns="2″ ids="7902,7903,7901,7906,7904,7905,7908,7914,7909,7910,7911,7907,7912,7913″]