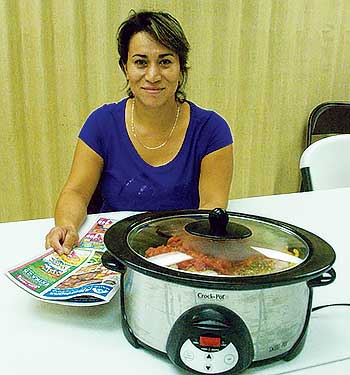 Hobbs Corps receives grant to fund nutrition program
Award doubles
the funds requested.
The Hobbs (N.M.) Corps, led by Captains Les and Susan Spousta, applied for the Lea County United Way Community Innovative Grant (CIG) hoping to create a nutrition education program. In July, they were awarded $6,000, double the amount they applied for.
A spokesperson for the CIG committee noted that The Salvation Army's proposal presented innovative ideas that would serve the community well.
Launched on Aug. 12, the new program will meet every Monday from 2 to 3 p.m., and is an extension of the corps' ongoing Food Services Program that provides food to those in need living in Hobbs and Lea County. It will be conducted in six-week sets, and Les Spousta hopes to have at least four sets within the next year.
"We decided that it was time to assist our clients and their families to know more about the food they receive from our food program, other programs or retail food stores so that they could make healthy and cost-effective choices in the future," he said.
Program lessons will include reading and understanding food labels, preparing foods, determining which foods are best in relation to content and price, learning how to eat certain foods for optimal nutritional value, the importance of eating slowly, and the value of spending quality family time at the dinner table. According to Spousta, a Spanish-language interpreter will be available at the classes as 80 percent of the corps' client base speaks only Spanish.
"We expect that the aim of the program of empowering people to eat their way to better health will be met by the end of each set of classes," Spousta said.
In-class demonstrations on preparing and cooking certain foods will allow people to get a better idea of how to apply the lessons in their own homes. At the completion of each program set, the Spoustas hope to provide participants with a small cooking appliance to better meet the needs of their household.