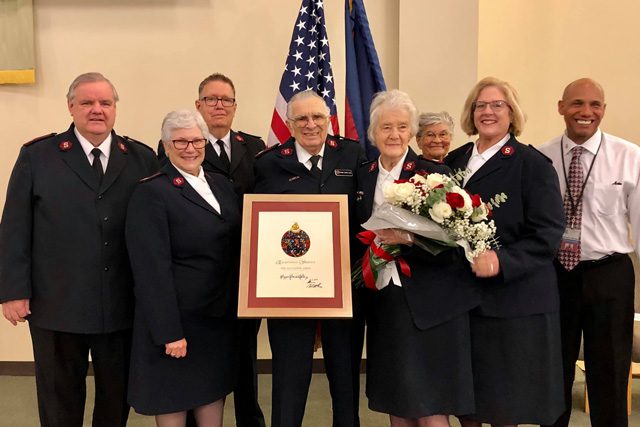 Couple receives Certificate for Exceptional Service award
Majors Gerald and Suzanne Hill honored for 25 years of post-retirement ministry at Portland ARC.
Majors Gerald and Suzanne Hill received The Salvation Army Certificate for Exceptional Service award Sept. 25 at the Portland (Oregon) Adult Rehabilitation Center (ARC), recognizing 25 years of post-retirement ministry there. The honor—one of the Army's highest—is awarded by National Headquarters; the Hills' certificate was signed by National Commander Commissioner David Hudson.
 "I have had the privilege of working with the Hills for at least a decade," said Cascade Divisional Commander Major Nancy Dihle. "They are godly people, quietly working to influence people for the kingdom. It is an honor to celebrate their 70 years of service."
Major Jack Phillips, who led the ARC with his wife, Anna, until its closure Sept. 30, officiated at the award ceremony.
Phillips explained how Gerald Hill showed up for work at the Portland ARC at age 65, having just completed 45 years of active service as a Salvation Army officer. 
"At the time of our retirement it was our only intention to continue faithful ministry and participation in our new home corps, Portland Tabernacle," Hill said after the ceremony. "However, in response to the ARC Administrator's request to accept the position of Spiritual Counselor, I did so."
Over the next 25 years, 12 successive administrators encouraged him to renew the contract.
Suzanne Hill said they served as Portland Tabernacle Corps Officers 20 years before retirement.
"Because we had only occasional visits to the ARC [during that time] I had no expectation of being involved with that wonderful department until I accepted the role of Chapel Pianist," she said. "I never expected to even live 25 more years."
Over those years, the Hills became beloved members of the Portland ARC family.
"By some estimates, Major Hill has prayed with more than 5,000 beneficiaries, many of them multiple times," Phillips said. "He has assisted with more than 2,500 chapel services, filling the pulpit on many of those occasions, and every time accompanied by Major Suzanne on the piano."
Hill said his favorite memories relate to the beneficiaries who sought Christ and achieved recovery. He led the men in Bible studies and inspired their singing. In every chapel service, he led the chorus, "Oh, it's amazing what praising can do." It became a theme chorus for the ARC.
"Occasionally, over the years, we would be surprised when someone we met at a repair shop, as a workman at our home or just from a passing automobile, would belt out that wonderful chorus and would indicate their lives were going well, thanks to God's power to change lives," Hill said.
He also joined the men on outings, including trips to the park to play softball up until just a couple of years ago.
"Major Hill is passionate and compassionate, determined and soft-hearted," Phillips said. "He is faithful and has boundless energy, is quick to laugh and, as all of us here know, is completely obsessed with leading men to Christ."
Hill was speechless after receiving the award.
"I have no words," he said. "And that is unusual. It has been a great honor to serve here at the center." 
He later spoke about his time at the ARC.
"I praise God for the privilege of sharing in the life-changing ministry of the ARC," he said. "I also want to express appreciation to all the ARC administrators over these years but particularly to Majors Jack and Anna Phillips, who honored us with their recommendation for this special award. They are wise and effective administrators with a great love for those under their care. May God's special blessings rest on them."
Suzanne Hill reflected on the many times she heard beneficiaries thank God for their salvation.
"When I heard the phrase that the ARC—actually the work of God—had 'saved their life,' meaning their physical life, I was so blessed to be a part of this ministry that over the years has been the agent of saved lives for countless men and women," she said. 
Dihle closed the award ceremony with a prayer of thanks and dedication for the Hills. 
The Hills' son, Colonel Edward Hill, currently serves as Chief Secretary in the Canada and Bermuda Territory, with his wife, Shelley, who is Territorial Secretary for Women's Ministries.