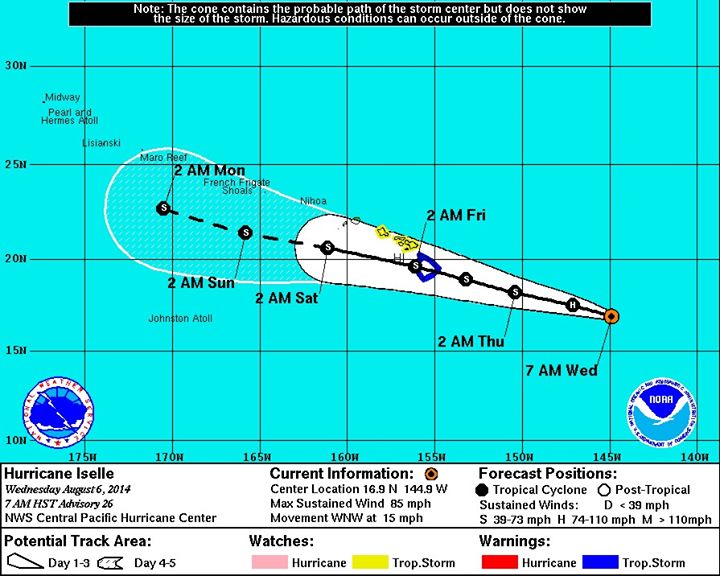 Army on hand for Hurricanes Iselle, Julio
The Salvation Army's Emergency Disaster Services (EDS) teams are preparing to respond as needed in Hawaii as Tropical Storm Iselle moves across the Hawaiian Islands, closely followed by Hurricane Julio. The teams are prepared to meet immediate needs of food, beverage, shelter and spiritual support to survivors and first responders.
"The Salvation Army has an established presence on Hawaii, Maui, Molokai, Oahu and Kauai and we are in place to responding to our island communities as needs arise," said Major Mark Gilden, divisional secretary for business for The Salvation Army Hawaiian & Pacific Islands Division.
Both storms are forecast to bring heavy rainfall, damaging winds and high surf, with Tropical Storm Iselle making landfall first early on August 8. The Salvation Army is continuing to monitor the situation and is prepared to mobilize additional teams and resources should the need arise.
"The public is encouraged to help in advance by supporting emergency disaster services efforts via monetary donations via our website or our Divisional Headquarters in Manoa on Oahu. One-hundred percent of the donated funds will be used to support our emergency disaster services in Hawaii."
Monetary donations are the most critical need as supplies and personnel are mobilized.
To support relief and long-term recovery efforts, visit www.SalvationArmyUSA.org or call 1-800-SAL-ARMY (1-800-725-2769).
You can also text the word "STORM" to 80888 to make a $10 donation through your mobile phone; to confirm your gift, respond with the word "Yes."
_________________________
#EDS: A Tropical Storm Watch has been issued for Oahu, Maui County, and the Big Island as Hurricane #Iselle continues towards the Hawaiian Islands. Stay safe out there! We'll keep updating with the latest news.