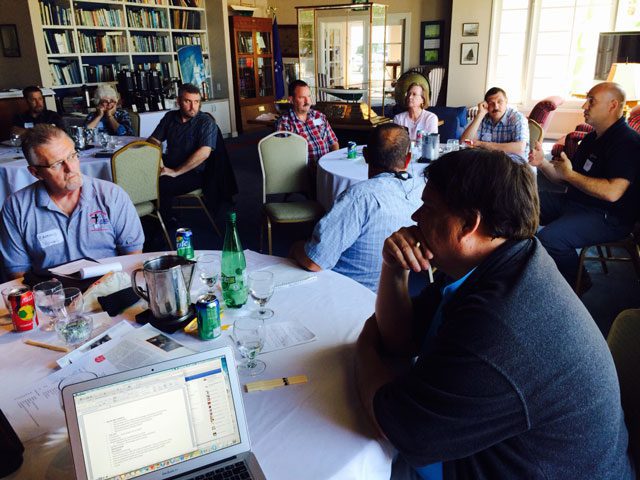 Harvest Initiative Soldier's Caucus meets
Attendees consider next steps of corps and ARC integration
By Susan Barton – 
Soldiers from more than 14 corps throughout the Western Territory recently gathered in a Soldier's Caucus as a next step of the Harvest Initiative to integrate Adult Rehabilitation Centers (ARC) and graduates with local corps. This effort, developed in partnership with Apricot Consulting, aims to build relationships between corps and ARCs to better provide support for ARC alumni and build community within congregations.
As delegates at the caucus wrestled with both the causes and effects of barriers and how to overcome them, a dominant theme to include families emerged. "Our compassion has to exceed our cultural and socio-economic differences," said Irene Stillwell from Phoenix Citadel Corps in the Southwest Division.
Major Mark Nelson, secretary for business in the ARC Command, presented the ARC philosophy and process to help soldiers better understand the program. As a fellow soldier, he shared his own belief in the initiative. "It's easy just to sit and be comfortable in our corps," he said. "That's not what we were called to be or do."
Delegates articulated the priority to integrate families of ARC beneficiaries and alumni into corps life. "Beneficiaries need to feel the love from the corps to their families; that will bring them in," said Mike O'Reilly from the Concord Corps in the Del Oro Division.
"We have a sacred opportunity to embrace those who have already walked through the front door," said Warren Johnson, corps sergeant major at the Tustin Ranch Corps in the Southern California Division. "We need them more than they need us."
The group identified obstacles that prevent congregational integration such as limited outreach to family members, varying worship styles between corps, ARC program scheduling conflicts, and a general lack of understanding of the recovery process.
"This idea of reaching family members of our ARC beneficiaries is most powerful," said Derek Linsell, Apricot Consulting CEO. "We can make a difference in the sobriety of individuals and lifelong community of our corps by simply welcoming people into our buildings. We want to see it happen."
Delegates identified next steps, including developing intentional methods to reach the immediate family of each beneficiary, as well as education on both sides of the initiative—an ARC 101 class for soldiers and a TSA 101 class for ARC alumni. The group also proposed developing a new local officer role—an ARC Sergeant—to liaise between corps soldiers and beneficiaries, alumni and families, and offering music lessons to beneficiaries to help individuals connect with existing programs as they worship on Sunday mornings.